Behind the building of the Dirt Track stood Motor Dealer Jorgen Nielsen who also built and ran the dirt track at Vejle.The track address was Niels Ebbesensvej in the northern Aarhus near the Water Tower at Randersvej.
May 1. 1932. Opening meeting: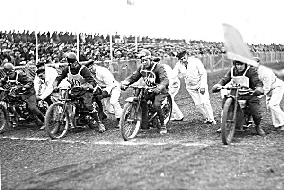 From the opening meeting at Aarhus Dirt Track. Rosenlund in the middle
of the picture is mounted on a new DKW dirt track bike
with a water cooled two-stroke engine 
May 1 , 1932. Track opening meeting:
The track opened with a great audience. Already at 2 pm. the turnstiles began to spin , and all the way to the track was completely blocked by cars and motorcycles, and at 4 pm. the Mayor Jacob Jensen welcomed  in a short opening speech about 12,000 people to the largest ever sporting event in Aarhus.
Then 16 riders rode a presentation round, before they proceeded to the race.
Unfortunately, the slag layer was to dry and too thick, which meant that the otherwise good riders repeatedly overturned, without any harm, but caused too many restarts, which wearied the many people, who were crammed on the poor spectator seats, and a few thousand left the field at 5 pm without having received anything but engine noise .
The track Committee promised impeccable spectator seats at the next race day.
Results:
Challenge Match :
1. Morian Hansen ,                              Copenhagen
2. Skovbjerg Hansen,                           Copenhagen
1. Race final heat:
1. Walter Ryle,                                      Copenhagen         2,15,2 min.
2. Ingemann Rasmussen,                   Copenhagen         2,18,1 min.
2. Race final heat:
1.  Arne Jorgensen,                              Aarhus                  1,48,1 min.
2. Valdemar Rasmussen,                    Copenhagen         1,57,8 min.
Handicap:
1. Ingemann Rasmussen,                   Copenhagen         1,42,4 min.
2. Arne Jorgensen,                               Aarhus                  1,44,4 min.
Among the local riders mentioned are Hugo Bording, Carl Hansen, Venderby, Knud Andersen, Gunnar Bach Sorensen and Bent Jensen. Furthermore Alfred Rumrich from Hamburg often appeared on the track, likewise a number of riders from the Roskildevej Dirt Track near Copenhagen, among them "Morian" Hansen and Kaj Hansen. The Danish Champion Skovbjerg Hansen participated in the opening meeting, where he lost a challenge heat to Morian Hansen.
(Source: The Veteran Post June 1975)
A rider named Valde Rosenlund was a tall, chunky man weighing close to 220 lbs. He was born on the island Funen in 1905 and moved 26 years old to Aarhus where he promptly appeared at the dirt track. He also opened a motorcycle shop in the city.
Behind him he had more than 100 road races and a.o. he sat a speed record on 122 km/h with a sidecar machine in the notorious Knudshoved race near Nyborg.
Obviously his size was disadvantageous for dirt track riding, so he developed a personal riding style on his Douglas Bike. On a good day he could beat anyone, but his peculiar style often brought him eyelevelled with the cinders. Usually he escaped unhurt from his many falls, but he got nicknamed "Tumble Valde".
He bought the Douglas bike second hand from Germany, where it already had claimed the life of two riders. Fired up with methanol fuel it made several attempts – luckily in vain – to claim Rosenlund as its third victim.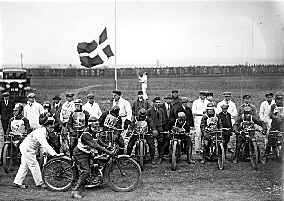 The rider being pushed is Valde Rosenlund. The bike is most likely a Rudge DT

A crack race is starting
After the opening meeting soon more meetings followed.
Monday 16/ 5 (2nd day of Pentecost ):
There was a meeting with 16 riders. It is worth to notice that Morian Hansen who always insisted on having start no. 13 this time got no. 2. The no. 13 was given to Gunnar Jensen. Riders no. 8, 10 and 11 were brothers.
1. Alfred Rumrich, Germany.
2. Morian Hansen.
3. Ejnar Knudsen.
4. Kay Hansen.
5. Walter Ryle.
6. Ingemann Rasmussen.
7. Ejnar Hansen.
8. Bent Jensen.
9. Valde Rosenlund
10. N.V. Jensen.
11. Svend Jensen.
12. Herman Larsen.
13. Gunnar Jensen.
14. Carl Hansen.
15. Hugo Bording
16. Arne Jørgensen
Below, Valde Rosenlund's funny poem in an ad in the programme ironically tells that all the bikes left behind could be repaired in his shop. (It comes from Valde).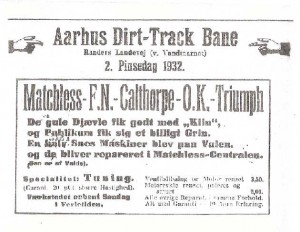 The track management had put a lot of work to address the premier errors, and the crowd failed as neither. About 10,000 spectators were gathered.
Unfortunately,  the German rider Rumrich apologized.
The races were otherwise exciting from beginning to end, and in particular Morian showed excellent riding. In the first race he ran in time 1,25,4 which was 3.5 seconds faster than the lap record.
Results:
Track Record Standard :
Bent Jensen                                          Odense                 1.32 4 min.
1. Race:
1. Morian Hansen,                               Copenhagen
2. Einer Hansen,                                  Copenhagen
2. Race:
1. Arne Jorgensen,                               Aarhus
2. Svend Jensen,                                   Odense
3. Race:
1. Einer Hansen,                                   Copenhagen
4. Race:
1. Kaj Hansen,                                      Copenhagen
2. Walter Ryle,                                      Copenhagen
5. Race, Standard:
1. N.V. Jensen,                                      Odense
2. Herman Larsen,                               Odense
6.løb Handicap:
1. Walter Ryle,                                      Copenhagen
2. Morian Hansen,                               Copenhagen


Friday June 24. Danish – German match:
Morian Hansen and Ejnar Knudsen represented Denmark, Alfred Rumrich and Hans Krons represented Germany.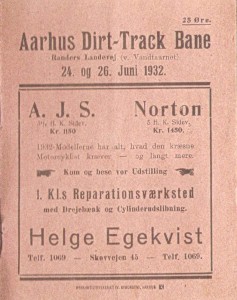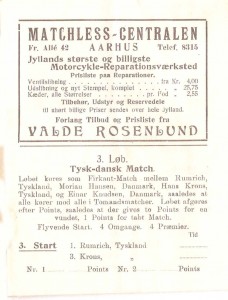 .
June 26 1932
The programme from the Danish – German match on got repeated on the following Sunday
August 14.
At the meeting on the the British rider Clem "Devil" Beckett had his first appearance on the track, where he met a.o. the riders Ferdinand Olsen and Christian Brünnich from Copenhagen.
September 25:
Next meeting was on. The top riders at this meeting were Leslie Blakeborough, England, Alfred Rumrich, Germany, Baltzer Hansen and Morian Hansen, both Copenhagen
Naturally Valde Rosenlund as always was in the list of riders.
April 13. 1933, Season opening:
At this meeting a fatal crash caused the death of the Australian rider Con. Cantwell after a cervical vertebra fracture,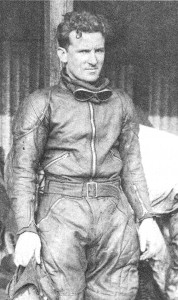 Con Cantwell
Regular meetings were held on the track until 1936 when economic troubles caused by the generally hated 60% entrance tax ended the activities.
In local archives no newspaper report since July 9, 1934 is found.
To watch a video sequence with Morian Hansen and others from the track, click below. To get the best picture, select full screen.
If you posses any information, stories, pictures or other material regarding this track,
you kindly would make available for this website,Please do so by proceeding to the contact page
or by using the e-mail adress: sk@speedwaylife.com
Thank you very much in advance.