Facts:
Address: Hedevej 1, DK 6670 Holsted
Owner: Holsted Speedway Klub
Length 300 m.
Surface: Brick granulate & clay .
Open: June 4.1989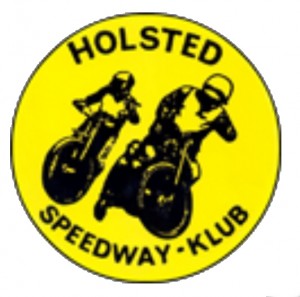 The Holsted club logo
Hedevej (transl: Moor road) A couple of miles south of Holsted Stationsby (Railway station) the road to the track goes eastwards for a mile and ends at the Holsted Speedway which opened in 1989. Right from the beginning it was planned as a track suited for big international events. and with ever ongoing improvement n the facilities for riders, spectators and no less for the sponsors it looks like a success.
June 4. 1989, Opening meeting:
From the morning rain made the track deep and uneven, which was not to all riders liking, and also caused a few crashes, luckily without serious injuries.
In the infield of the speedway there is a mini speedway, which was the first to open with 5 heats
for 80 cc riders.
Then the club's junior 500 cc riders inaugurated the speedway with great intensity and nerve, which lead to both broken start tapes and crashes on the more and more rutted track.
Last, but not least the super league riders entered the track and showed, that such track conditions are no problem, when experience and skill play well together.
Results:
80 cc:
1. Bo Lauritsen,                       Holsted
2. Martin Clausen,                  Skaerbaek
3. Claus Kristensen,                Holsted
Junior 500 cc:
1. Erik Jensen,                         Holsted
2. Leif Jensen,                         Holsted
League 500 cc:
1. Bo Petersen,                        Fjelsted
2. Kurt Bogh,                           Holsted
3.Jan Pedersen,                       Fjelsted
Although the track already has a high standard, it seems that there always are improvement projects going on in this home for Holsted's league team and the other teams in the 500 cc, 80 cc and 50 cc classes.
Since the opening of the track Holsted Speedway Klub has developed to be one of the best managed speedway clubs in Denmark.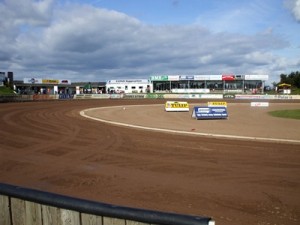 Bend 4. In the background  the main entrance and the VIP center

Start area with prize rostrum and sponsor wall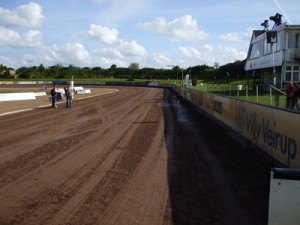 A view from the gates down the straight to bend 1.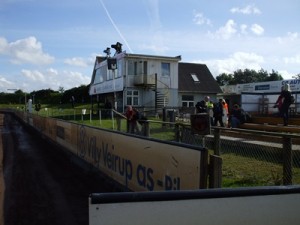 The club lodge with referee's box and press center. The pits are to the right.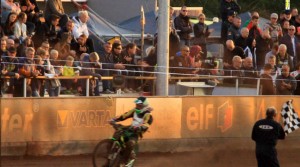 A scene from the DSL final in 2014
( the lille arrow in the  upper right corner is
pointing on this site's webmaster)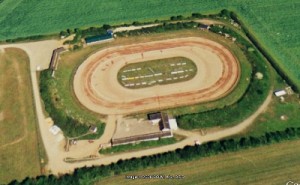 Satellite view of Holsted Speedway.
The mini speedway is in the middle.
If you posses any information, stories, pictures or other material regarding this track,
you kindly would make available for this website, Please do so by proceeding
to the contact page or by using the e-mail address: sk@speedwaylife.com
Thank you very much in advance.