Earth track, long track & speedway
Facts, Long track:
Track name: Fangel Motorbane
Track owner: Fangel Inn – SMO
Address: Fangelvej 55, 5260 Odense S.
Length: 650 m. – changed to 630 m. and to 600 m.
Surface: Soil and cinders
Width straights: 15 m.
Width bends: 18 m.
Track record: ??
Record holder: Ole Olsen 23/4 1971
Opened: 19/5 1946
Closed: 1951
Re-opened 8/8 1954
Closed:16/6 1985
Facts Speedway:
Track name: Fangel Speedway
Track owner: Sports Motorklubben Odin
Address: Fangelvej 55, 5260 Odense S.
Length: 370 m.
Surface: Soil and cinders
Width straights: 15 m.
Width bends: 15 m. & 18 m.
Opened: Ca. 1970.
Closed 1985.
The small township Fangel is a location about 6 miles south west of the City Odense. A 650 meters long motor cycle track, built as neighbor to the village inn and owned by the landlord. The safety fence was built of old car tires filled with soil and topped with grass. Race office, press room and the referee's box were installed in an old railway wagon standing on concrete blocks alongside the western straight. The pit area was quite rural. Cars, motorcycles with and without sidecars were parked on an open grass area near bend 3. The riders had to clear a place for themselves in the tall grass.
The opening meeting took place on May 19. 1946. In the early morning hours it rained heavily. A cancellation was imminent, but the weather dried up and the new track got inaugurated in the presence of 5000 people.
Soon the track gained popularity and attracted many renowned riders from home and abroad. From the grass covered bankings surrounding the track the fans had an excellent view all the way round. Compared to the great number of spectators the sanitary facilities were absolutely inadequate, but that minor detail did not keep them from coming by the tens of thousands.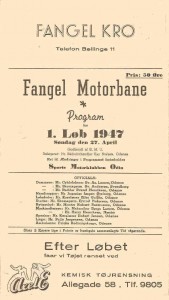 In its 48 years lifetime the track has been closed and re-opened many times. At various re-buildings the length and width have been changed. The length has been given as 650, 630 an 600 meter. The width was 15 – 18 meters. The figures in the fact box above are the latest known.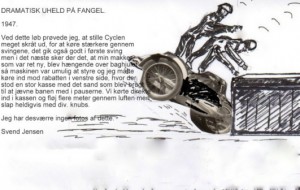 The former sidecar pilot Svend Jensen from Copenhagen  sent us this funny combination of a photo
and a drawing describing a crash he had on Fangel in 1947. He wrote: "I modified the inclination
of my bike to make it faster in the bends. My passenger was not aware of that and stayed too long
over the rear wheel, so I lost control. We went over the infield and plunged head on into a container
filled with sand. Both men flew over the container and hit the grass, only with minor bruises".Not without humor this emphasizes the importance of a well trained sidecar passenger.
Like other tracks the Fangel track lay idle from 1948 until spring 1949 because the secretary of trade Jens Otto Krag banned all motor sports events in order to preserve the scarce fuel reserves in Denmark. Funny enough he did not ban all other sports events people traveled to by the ten thousands in cars or on motorcycles.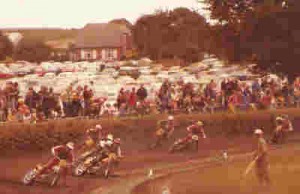 8 riders in the first bend feel somewhat crowded.
From time to time the events got organized by the Funen Race Association in which the Bogense Motor Klub and Vestfyn's Motor Club took part. But mostly the sports motor club "Odin" from Odense was the sole organizer of the meetings which usually were characterized by many classes over a full day.
So it was in 1947 when the track hosted the Danish Championships in no less than 7 classes with results as follows:
250 cc. Standard, H. Sørensen,            Silkeborg
350 cc. Standard, Ejnar Andersen,       Copenhagen.
500 cc. Standard, K. Mogensen,           Odense
350 cc. Special,    N. V. Jensen,             Odense
500 cc. Special,    Irving Irvinger,         Copenhagen.
600 cc. Sidecar,    Johannes Hansen,   Odense.
750 cc. Sidecar,    David Axelsson,       Copenhagen.
September 4.1949
One of the famous Engstrom's many come backs those days took place at this meeting.
Still he enjoyed great popularity among his fans, and expectations were high. Unfortunately the fans got disappointed. Already in his first heat he took a backwards flip from the gate on a JAP bike he had borrowed from the rider Aage Jacobsen from Svendborg.
Later he borrowed another JAP bike from Niels E. Nielsen from Odense, but  only got one second place behind Irving Irvinger.
In the sidecar class Johannes Hansen from Odense riding an old Nimbus sensationally beated the Nimbus factory rider Josef Koch from Copenhagen.
A remarkable accident, that could have been fatal, occurred after the race. Two riders, Svend Nissen and Arne Hansen were on their way home in a lorry. Svend Nissen sat in the passenger seat besides the driver and Arne Hansen behind was taking care of the bikes, when the lorry while passing an unguarded railway crossing on the main road between Odense and Fangel got hit by the train.
The lorry got crushed and pushed 5 meters down a steep slope. Nissen and the driver escaped with bruises while Hansen suffered a broken leg
 October 1.1950:
Once again the Fangel track hosted the Danish Championships.
The list of entries had 78 riders in 7 classes. 500 cc Special had 18 entries, all on JAP bikes. The heat length was 5 laps of 650 meters. In a contemporary report the magazine "Skandinavisk Motor Journal" wrote that the track was better that it looked at first eyesight, but quickly got bumpy on the straights and rutted in the bends. It was far from easy to ride and not well suited for a Championship meeting.
The organizer SMO got praised for efficient conducting of the many heats, but the stewards (read referees – 3 in all) got blamed for some confusion in the larger sidecar class.
What happened was, that the sidecar pilot Helmer Albrechtsen lost his passenger in second lap of a qualifying heat. He continued alone to third lap where he picked the passenger up again and continued to the finish line. Time and placing got erratically announced. Later he got disqualified from riding in the final heat.
In the 500 cc special class a rare sight was witnessed. The post-entried rider Sigurd Nielsen met with an old 2-cylindered Douglas "fore- and-aft" bike in a field of JAP's. Chanceless he finished nearly half a minute behind the heat winner.
Despite the track conditions only few crashes happened. In the 200 cc class a fierce fight for second place ended with a collision causing both riders to fall.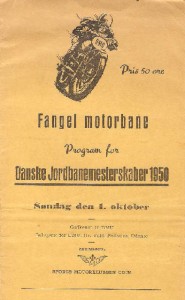 The start list had 78 participants  in 7 classes.
500 cc special had 18 riders , all  on JAP.
All heats 5 laps of 650 meter.
Results:
200 cc Standard, Johannes Hansen,  Odense.
250 cc Standard, Erik Wincentz,         Slagelse.
350 cc Standard, Ib Nielsen,               Skive.
500 cc Standard, Aage Iversen,          Sonderborg.
500 cc Special,    Svend Nissen,          Odense.
600 cc Sidecar,    Johannes Hansen,   Odense.
750 cc Sidecar,    Carlo S. Jensen,        Aarhus.
On the race day the weather was rainy, and afterwards the newspapers criticized the track for being muddy and rutted. Whether the criticism was the reason is not known, but from 1951 and a couple of years ahead the track lay idle.
August 1. 1954.
The track re-opened The length was altered to 600 meters and the width in the bends to 18 meters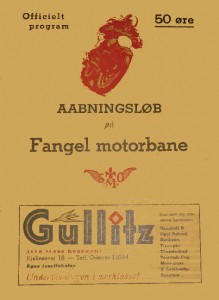 Programme cover from the re-opening meeting.
The fans had been missing the track during the closed period. Now more than 10.000 crowded at the entrance. The famous – or say notorious – two German sidecar teams Michael Krauser and Hans Kistner rode in the meeting and returned on September 26. same year. Their neck breaking daring riding was a big issue many years after. When old Fangel fans gather, one always hear "Do you remember the German sidecars?"
October 8th 1955
Krauser and Kistner came back accompanied by Josef Miesgang and Franz Berndt. They attracted 8000 fans, but the excitement faded away. Only in their first heat all four reached the finish, and after their final heat only Franz Berndt had finished all three heats and got declared winner.
Many initiatives were taken in attempts to maintain the fans' interest. Among others some German sidecar pilots came to show their vehicles mounted with the 1100 cc Koenig motorboat racing engines churning out more than 150 hp.
They were capable of speed and acceleration beyond control on the track, and one of the vehicles crashed into the fence at first bend leaving its pilot to hospital with a broken leg. Once also the flexible sidecars, which now are totally banned due to their dangerousity, were shown on the track.
Generally these initiatives failed to attract more spectators.
The need occurred for a shorter speedway track to be the home track for SMO's team in the Danish Speedway tournament. Therefore a new 180 deg. bend was made crossing over the infield, thus creating a 370 meters long speedway in the southern end.
May 23. 1970, Nations match Denmark – Norway:
This meeting between Norway and Denmark took place on the 370 m.track, attended only by 2000 fans.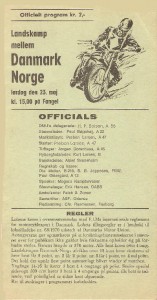 In the first half the Danes had a 2 points lead, but a heavy shower in the mid interval turned it upside down. The track got muddy. The only Dane being able to adapt was Ole Olsen. Obviously the Norwegians were more familiar with wet tracks and took a great win.
Denmark                                 49 point.                       Norway                                 59 point.
Team Manager Egon Boisen                                         Team Manager Tore Kittelsen.
Ole Olsen                                  15  point.                       Odd Fossengen                    13  point.
Gotfred Andreasen                    9  point.                       A. Stangeland                       13  point.
Niels Weiss                                 8  point.                       Reidar Eide                           12  point.
Bent Norregaard Jensen           6  point.                        Öjvind Berg                          10  point.
Jens Ring                                     5  point.                        Ulf Lövaas                                7  point.
Henning Edsbjerg                      3  point.                        Dag Lövaas                               4  point.
Preben Moller Kristensen        3  point.                        Svein Kaasa                             0  point.  dnr
Along with the test match also 3 sidecar heats won by Frank Damgaard with passenger Henning Damsgaard, and 3 heats for 50 cc youngsters won by Bent Damgaard, were ridden. All heats over 4 laps of 370 meters.
Contemporary with the Fjelsted moped track (1970-1971) also a moped track approx. 190 meters long was made in the northern part of the Fangel track. Already before 1970 the mopeds had been in the programmes riding on the long track. The mopeds then were street mopeds converted to speedway with a special speedway frame. The 50 cc engines were modified to perform far beyond what was allowed for street use.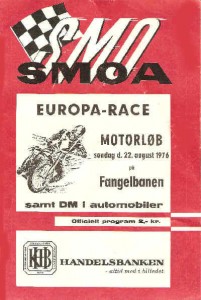 Through many years the track had two traditionally race days called Europe Race and Valvoline Cup in which also cars took part. SMO then had an automotive section called SMOA which later got separated from the motor cycle section
April 30. 1972
Meeting no. 100 on the track was held on April 30. 1972. It was The Danish Championship final on soil track for automobiles.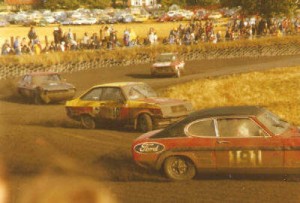 After several car heats the track could become deep
and rutted what the motor cycle riders disliked,
Not even time consuming grading intervals
could cure the track.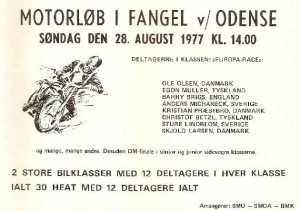 Anders Michanek did not come and got replaced by 19 years old Bo Petersen from Fjelsted who did surprisingly well in the tough company. Contrarily the German Christof Betzl, who ended last in the class, was a disappointment.
Results:
Expert 500 cc:
1.  Ole Olsen                         DK          32 point.
2.  Sture Lindblom               S             18 point.
3.  Bo Petersen                     DK          18 point.
4.  Skjold Larsen                   DK          17 point.
5.  Kristian Praestbro           DK          16 point.
6.  Barry Briggs                     NZ          14 point.
7.  Peter Hansen                  DK           14 point.
8.  Christof Betzl                  D             12 point.
Junior Special 500 cc:
1.  Niels Erik Jørgensen       SMO       21 point.
2.  Karl Frede Lund              EMS        16 point.
3.  Kurt Sørensen                 AMK       13 point.
4.  Ejvind Kjaer                     VSK         12 point.
5.  Gunnar Hansen              OSC        11 point.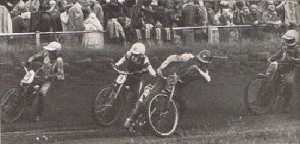 Gunnar Hansen carves in under Leo Justesen
and Peter Rasmussen in junior 500 cc.
Senior Special sidecar 500 cc:
1.  Frank Damgaard/ Jorn Andersen               AMK       12 point.
2.  Bent Jensen / Niels Damsgaard                 AMK          8 point.
3.  Carl Andersen/ Ernst Jacobsen                  HaMK        5 point.
Junior Special sidecar 500 cc:
1.  Torben Hansen/ Niels Voldgaard              EMS        10 point.
2.  Christian Andersen / Bjarne Andersen     HaMK       8 point.
3.  Bjarne Lauritsen/ Aage Sorensen              HeMS       5 point.
Senior Special sidecar 750 cc:
1.  Jorgen Svendsen/ Alex Hasager                AMK        12 point.
2.  John Nielsen / Flemming Qvist                  SMKG       9 point.
3.  Bent Jensen/ Mogens Lind                         FAM          5 point.
Mopeds 50 cc:
1.  Tommy Knudsen         SMK     14 point.
2.  René Christiansen       SMK     12 point.
3.  Lars H. Jorgensen        VBMK  11 point.
4.  Kim R. Jorgensen        SMO    10 point.
5.  Erik Holm                     HSK       9 point.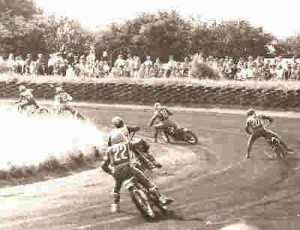 When the 50 cc youngsters rode in the greater events,
they often rode 2 laps on the 600 meter track and reached
speed up to 60 mph or more on the straights.
The boys loved it but the motors sometimes did not.
May 7. 1978, Valvoline Cup.
A large poster for a duel between Ole Olsen and Egon Müller. But Müller did not show up.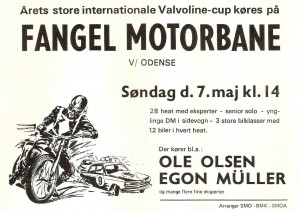 Results:
Expert 500 cc:
1  Ole Olsen                     DK          35 point.
2.  Kristian Praestbro      DK          29 point.
3.  Bruce Cribb                 GB         19 point.
4.  Finn Rune Jensen       DK          18 point.
5.  Steen Rasmussen      DK           14 point.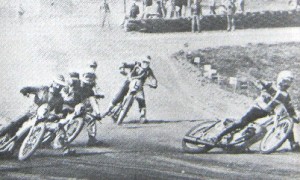 In the absence of Egon Müller Ole Olsen (3) had an easy job against
Steen Rasmussen (7), Klaus Lohmann (8) and Robert Mouncer GB (6)
 National Special 500 cc:
1   Jan Holm Nielsen          Ringsted       24 point.
2.  John Rosenkrantz         Horsens        22 point.
3.  J. E. Krause Kjaer          Aarhus          20 point.
4.  Niels E. Pedersen         Ringe             17 point.
Sidecar Junior special 500 cc.
1.  John Laursen/Fl. Christensen            12 point.
2.  Steen Christensen/Villy Hansen         7 point.
3.  Palle Gregersen/ Ernst Jacobsen        6 point.
4.  Kaj Schmidt/Finn Schmidt                  5 point.
Mopeds 50 cc:
1.  Henning Hansen           Them
2.  John Jorgensen              Sondersoe
3.  Michael Pedersen         Odense
4.  John Knudsen                Odense
May 31. 1981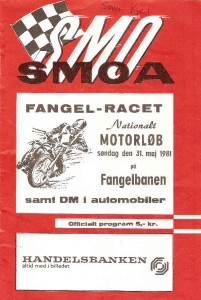 This meeting had 31 heats of which 12 heat
were car heats for the Danish Championship.
Less than 2000 fans attended.
Results:
Senior 500 cc
1.  Helge Hansen                HSK            16 point.
2.  Jan Holm Nielsen          MSM          15 point.
3.  Finn Jensen                    FSK             14 point.
4.  Jens Munkedal              FAM              7 point.
5.  Preben S. Pedersen      FAM              5 point.
Junior 500 cc
1.  Svend Aa. Schmidt        HMS           24 point.
2.  Lars Jensen                    FMK            19 point.
3.  Finn Schmidt                 FSK             14 point.
4.  Kent Noer                      EMS            14 point.
5.  Niels E. Jorgensen        SMO            11 point.
Mopeds 50 cc
1.  Henrik K. Pedersen       MMS       1,31,6 min.
2.  Kent Schärfe                  VBMK      1,32,5 min.
3.  Hans J. Hansen              SMK        1,33,5 min.
Sidecar Junior 500 cc.
1.  Jens Rasmussen SMO/Per West                      HMS   13 point.
2.  Hans P. Christensen HMS/ Finn D. Hansen   HMS   10 point.
3.  Kurt Yndgaard SMO/ Henning Andersen       SMO     9 point.
Sidecar Senior 500 cc.
1.  Frank Damgaard  AMK/ Jorn Andersen          AMK   13 point.
2.  Bent Jensen AMK/ Niels Sejr                           AMK   12 point.
3.  Steen Christensen SMO/Villy Hansen            SMO     7 point.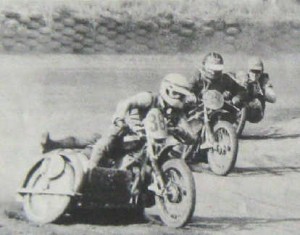 Sidecar pilot Frank Damgaard (38) in front of
Bent Jensen and Steen Christensen.
 June 16. 1985:
Through the eighties the public attraction to the old track diminished contemporary with increasing environmental problems due to noise emission. This last motor cycle meeting was staged in bright sunshine with only a handful of fans to watch.
Results
Senior Special 500 cc:
1. Bent Jørgensen                      Denmark
2. Öjvind Rökeberg                     Norway
3. Manfred Söth                          W. Germany
Junior 500 cc:
1. Lars Munkedal             AMCK
2. Karl Frede Lund           AMCK
3. Keld Munkedal             AMCK
Sidecar 500 cc:
1. Jan Rasmussen/ Remi Kruse Denmark
2. H. Tveitdal/ T. Solli                  Norway
3. O. Lagoni/ Österrud                Sweden
Speedway 80 cc:
1. Ole Vandel                       FMK
2. Tom Knudsen                  HSK
3. Claus Thaysen                 FSK
From that day SMO's 500 cc team was homeless. In the following years it used the Lovel track 100 miles away as "home track". The 80 cc riders were better off, as the same year a 220 meters long mini speedway opened in Odense. – (Find "Korsløkke Speedway" in the menu "Odense")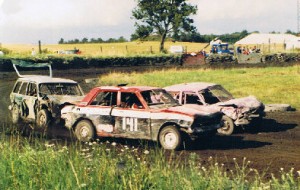 The track continued to 1994 with car racing 1 – 2 times per year and ended up with Banger racing. (Demolition Derby). The ultimate race day was September 9. 1994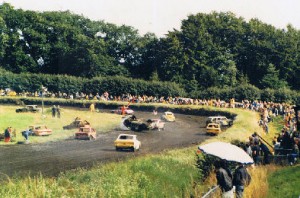 This is said to be the last race on the Fangel track.
Photo: Freddy R. Pedersen.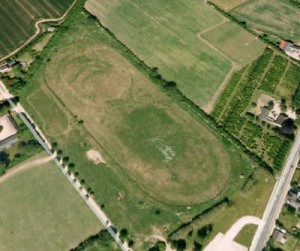 Although the track has been closed since many years, the outlines of the long track,
the speedway and the moped track are still visible from a satellite.
If you posses any information, stories, pictures or other material regarding this track,
you kindly would make available for this website, Please do so by proceeding
to the contact page or by using the e-mail address: sk@speedwaylife.com
Thank you very much in advance.