In the first half of the 1970-es mini speedway on special built mopeds had an enormous growth in Denmark. New Clubs emerged and a number of new tracks got built. Fjelsted on the island Funen is known as the first in 1973. Already a year later more tracks were added, among them one at the town Middelfart near the old railway- and road bridge between Funen and Jutland. The 200 m. long gravel surfaced track was beautifully located on a slightly sloped terrain between the Hindsgaul Forest and the beach of the Little Belt.
August 17. 1974. Danish mini speedway Championship Semi final B:
Semifinal A was held in Brovst same day..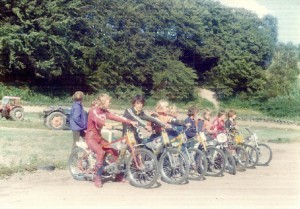 From left: Alf Busk, Bjarne Riise, Jorgen Holm, Peter Christensen, Torben Therkelsen,
Hans Nielsen, Preben Andersen and Finn Jensen
Results:
No.  Name                       Points. 
1.  Alf Busk                            14
2.  Bjarne Riise                      11
3.  Jorgen Holm                     11
4.  Peter Christensen            11
5.  Torben Therkelsen          11
6.  Hans Nielsen                   11
7.  Preben Andersen            10
8.  Finn Jensen                        6
Later same year the Middelfart track hosted the Danish Mini speedway Team Championship final. Torben Therkelsen from the Sparrows crashed in a collision with another rider, broke his handlebar and got take to hospital to get a bleeding wound below left knee stitched. Despite having lost this rider with, the team from Silkeborg captained by Alf Busk took an overwhelming victory. At the same time Alf Busk lowered his own track record from 68, 4 to 66, 1 second for four laps, and lowered the flying lap record to 16,01 second.
Results:
No. Team                    Home          Points:
1 "The Sparrows"         Silkeborg            47
2 "Odin Boys"              Odense                31
3 "The Snoopeys"        Fjelsted               15
4 "Mini-Wolves"            Herning             14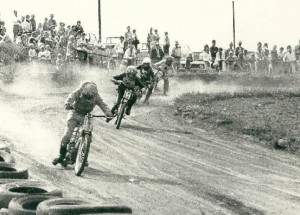 Close and hard riding at the team championship final in Middelfart.
If you posses any information, stories, pictures or other material regarding this track,
you kindly would make available for this website, Please do so by proceeding
to the contact page or by using the e-mail address: sk@speedwaylife.com
Thank you very much in advance.