Speedway
After closing of the Snoghoj track in 1951 Fredericia Motor Klub opened a new earth track located at the old agricultural fairground at Hannerup in the southern part of Fredericia. The first meeting on the 350 meters long track was held on Sunday June 15th 1951 in front of 4000 spectators. The second meeting had 3000.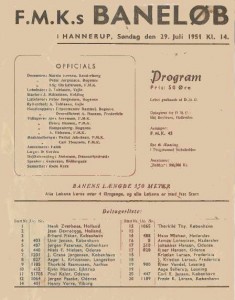 Programme cover from the Hannerup track
The track never enjoyed much publicity, and not much archive material about it has been filed. Its lifetime was short. It got closed in 1956.
If you posses any information, stories, pictures or other material regarding this track,
you kindly would make available for this website, Please do so by proceeding
to the contact page or by using the e-mail adress: sk@speedwaylife.com
Thank you very much in advance.