Speedway on ice.
Odense Skating Rink
The rink is a part og the larger Stadium Park in Odense west. It is designed for ice hockey and figure skating.
March 5 & 6 1983:
At one occasion motor bikes entered the rink. In the weekend the Sports Motor club Odin hosted a number of the best Danish professional speedway riders for a "Speedway On Ice". meeting.
On Saturday an English team format match with Preben Eriksen and Hans Nielsen as team captains was ridden, and on Sunday there was an individual match between 12 riders through 15 heats plus a Grand Final between the four fastest riders from Saturday and Sunday over 6 laps.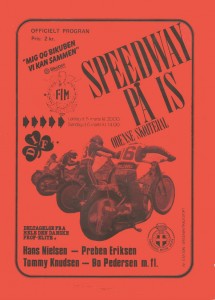 The bikes were ordinary speedway bikes with steel screws as spikes in the tyres to give some grip in the ice surface, and naturally the bikes were set up for the very short track the Rink space allowed.
The Air conditioning in the hall was inadequate for removing the exhaust fumes, so the doors needed to be left open to provide some fresh air inside.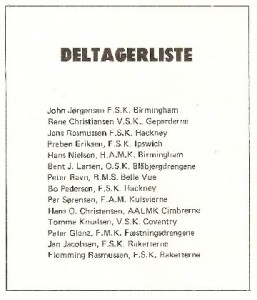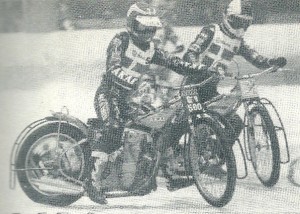 Hans Nielsen and Bo Petersen in infight
Results Saturday:
1.Team  Preben Eriksen  47 point.
Preben Eriksen                    10 point.
Bo Petersen                         10 point.
John Jørgensen                      7 point.
Per Sørensen                         6 point.
Jens Rasmussen                    6 point.
René Christiansen                 6 point.
Jan Jacobsen                          3 point.
2. Team Hans Nielsen     31 point.
Hans Nielsen                       14 point.
Flemming Rasmussen          6 point.
Peter Glanz                            6 point.
Hans O. Christensen             3 point.
Bent Juul Larsen                    3 point.
Tommy Knudsen                   0 point.
Peter Ravn                             0 point.
Second half
1. Preben Eriksen
2. Hans Nielsen
3. René Christiansen
4. Peter Ravn
That the spikes, although extra wheel protection, add a  new moment of risk to speedway, was a painful lesson for Bo Petersen, who got a foot under Hans Nielsen's rear wheel and needed to call in at the trauma center to get the foot stitched.
However Bo was able to eat the pain and ride again in Sunday afternoon's individual meeting.
Results Sunday;
1. Hans Nielsen    15 point
2. Preben Eriksen 14 point
3. Peter Glanz       11 point
4. Bo Petersen        9 point
John Jorgensen was the most unlucky rider on Sunday, when he after two pointless heats,collided with Peter Glanz . Both fell, and John's leather suit got torn apart by  the spikes in Peter's rear wheel. John escaped unhurt but shaken. Quite understandably he decided to withdraw  from the meeting.
If you posses any information, stories, pictures or other material regarding this track,
you kindly would make available for this website, Please do so by proceeding
to the contact page or by using the e-mail address: sk@speedwaylife.com
Thank you very much in advance.