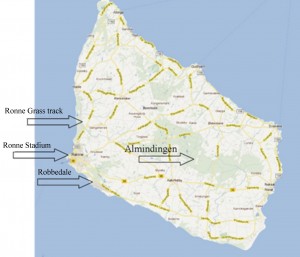 As a cliff island far east in the Baltic Sea, Bornholm has had its own motor sports life without substantial attention from the Danish mainland.
Nevertheless there have been quite a number of activities in Moto cross as well as on the oval tracks like grass track, long track and speedway.
On June 1. 1930 the club "Bornholm's Motor Sport" got founded with approx. 100 members of which 25 were active.
From 1930 to 1933 a number of the club's riders took part in grass track meetings in the German town Kolberg at the northern coast of Pommern, Germany.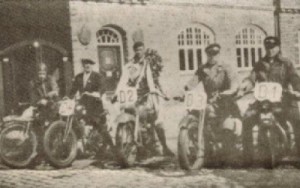 A team of riders from Bornholm at their return to Neksø with the steamboat
"Heimdal" from Kolberg. In the middle Christian Pihl with the laurels.(1932)
The Club was idle trough WW2 but came to Life again in 1946. Through the following 10 years it had a busy period with many races and opening of a new speedway track.
Occasionally some of its riders, among others, Poul Moller, Ronne and Kaj Hermansen, Klemensker rode on selected Danish teams.