At Troldhede, a small village approx. 10 miles North east of Skjern in the mid west of Jutland. this mini speedway was  located on the address Gaasdalsvej 26, Troldhede, DK 6920 Videbaek.
Not much has been written about this track, which was one of many moped speedway tracks that got established around in Denmark early in the 1970-es. Anyway the track is still remembered for one thing.
Jan O. Pedersen won his very first Danish Championship in moped speedway on this track.
August 12.  1979. Danish 50 cc Speedway Championship Final
The attention of 2000 spectators was the highest number sicne 50 cc speedway got introduced in Denmark. They enjoyed a well organized meeting with close riding between riders of almost the same strength.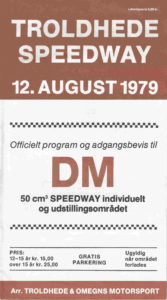 Result:
Plac.   Kører ,                            Klub              Point.
No. 1. Jan O. Pedersen,             FSK                 14 point.
No.2. Aksel Jepsen,                    EMS                13 point.
No. 3. Lars H. Jorgensen,         VBMK             12+3 point.
No. 4. Michael Thomsen,          RMS                12+2 point.
No. 5. John Jorgensen              FSK                   8 point.
No. 6. Preben Hansen,              HSK                  8 point.
No. 7. Hans J. Hansen,             SMK                  8 point.
No. 8. Michael Hansen,            FSK                   8 point.
No. 9. Kjeld Munkedal              AMcK               6 point.
No. 10. Soeren Riis,                   RMS                 6 point.
No. 11. Henning Boysen,           SMK                6 point.
No. 12. Lars Jensen,                  FMK                 5 point.
No. 13. Peter Glanz,                   FMK                 4 point.
No. 14. Jens Hansen,                 SMK                 3 point.
No. 15. Torben Nielsen,            FMK                 3 point.
No. 16. Jan Jacobsen                 FSK                  2 point.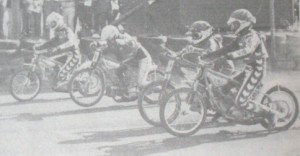 Tape up for heat 20. From left. Lars Jensen, Aksel Jepsen,
Hans J. Hansen andPeter Glanz.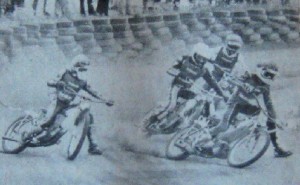 Close fight in the bend.
In 2009 Kenneth Emil Nielsen wrote to speedwaylife.com:
In the early 90-es an attempt was made in cooperation with Videbaek boarding school to re-open the Troldhede track. A club named Videbaek Motor Sport (VEMS) with approx. 40 young members worked voluntarily with establishing a Moto cross trail and a speedway for 500 cc. bikes around the still existing moped track and build a fine new club house.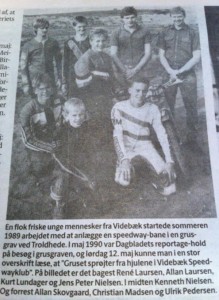 Unfortunately the noise abating wall proved not high enough, and the site was too small to allow higher walls. Therefore the local environment authorities declined a permission to use the track. Two years work were wasted.
But the tracks are still there – so maybe, who knows ???
If you posses any information, stories, pictures or other material regarding this track,
you kindly would make available for this website, Please do so by proceeding
to the contact page or by using the e-mail address: sk@speedwaylife.com
Thank you very much in advance.