Speedway
Facts:
Track name: Gladsaxe Speedway
Track user: Motor club "Rapid"
Address: Gladsaxevej 200 Copenhagen
Length: 400 m.
Surface: Cinders
Width Straights: 7,32 m.
Width bends: 8,82 m.
Track record: 70,9 sek.
Record holder: Kiehn Berthelsen 30/8 1953.
Opened: 1947
Closed: Ca 1955 – 56
The Gladsaxe Athletic Stadium was built in 1938: a neighbor to the Gladsaxe Hall, which was among many other matters used for motorcycle exhibitions.

In 1947 the motor club "Rapid" began to organize speedway on the 440 yards long cinders surfaced track There was no real competition between the events at Gentofte and Gladsaxe stadiums as both were for the benefit of "The Motor Club's Track Foundation", and generally the riders were the same, which also went for Østerbro Stadium.
Like at Gentofte also Gladsaxe stopped in the mid fifties, when Amager Speedway (opened 1952) took over.
At the bottom of this page you will find a video file, made available by The Gladsaxe local historic archive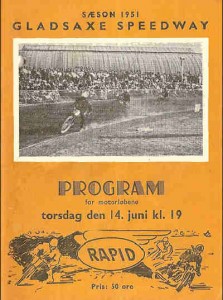 Programme cover from 1951 Danish/Swedish test match,
which ended with a 36 – 36 draw.
In the background the Gladsaxe hall.
On April 18 1948 a "Golden Helmet" race was held at Gladsaxe, An exciting duel developed between the home ace Orla Knudsen and the Nordic champion Leif Basse Hveem.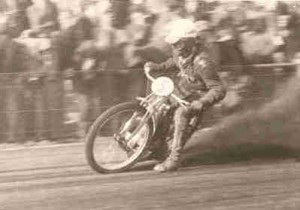 Gladsaxe 18/4 1948: Style study, Orla Knudsen
From this duel Orla Knudsen came out the better as can be seen from the picture.Other competitors were Phil Hart from England, Linus Eriksson Sweden, Vaclav Stanislaw Czechoslovakia, plus the Danes Aage Andersen, Erhardt Fisker, Bent Jensen and Uno Jensen.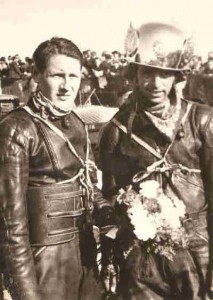 Gladsaxe 18/4 1948: Orla Knudsen with the "Golden Helmet"
left, Leif "Basse" Hveem.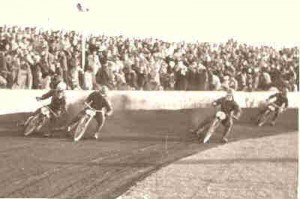 Gladsaxe 23/4 1950. Orla Knudsen, Bill Gilbert,
Bill Kitchen and Morian Hansen
The 3 photos above are from Orla Knudsen's private collection (Courtesy: The Knudsen family)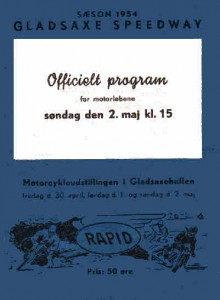 The programme covers could never boast of being inspiring,
and were not larger than 11 X 14 cm..
List of records in 1948. Later improvements: Bill Kitchen, GB 76,9
Kiehn Berthelsen DK 76,6, Birger Forsberg, S 76,3 Henry Andersen, N 75,6 ,
Irving Irvinger DK 74,9. Sven Fahlén S 72,3
On August 30 1953 Morian Hansen rode one of his many Farewell meetings as speedway rider; a remarkable event.
Friends from near and far came to celebrate him after his approx. 30 years long career, which was halted by service in the Royal Air Force during WW2, and made him the first Danish World Championship finalist at Wembley Stadium in 1936, placed 11.
Despite aged 48 years Morian still was competitive which he proved by beating the British star rider Bill Kitchen in his first heat.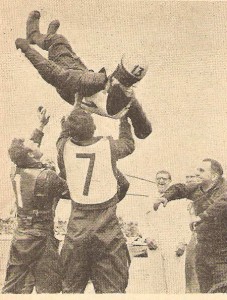 Kiehn Berthelsen, Erhardt Fisker and Orla Knudsen
gave the old star a "Bump"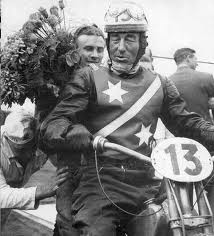 Time for a Lap of honor with Kiehn Berthelsen on the "sissy bar"
In the same meeting Kiehn Berthelsen with 70, 9 seconds rode a remarkable track record. The time equals an average speed of 81 kmh=50,4 mph.
Compared with the table from 1948 it shows a substantial improvement partly owing to better machinery but mostly to the sharpened competition even all riders used the same type of JAP engines.
It must also be remembered, that Gladsaxe stadium was a very narrow track, which in its first year took some time for the riders to get acquainted to, before full throttle could be given.

If you posses any information, stories, pictures or other material regarding this track,
you kindly would make available or this website, Please do so by proceeding
to the contact page or by using the e-mail address: sk@speedwaylife.com
Thank you very much in advance.