History
In Bogense – a town on the north coast of the island Funen – Bogense Motor Klub got founded in 1938. Through the years the club has had numerous activities including trials, track racing, and in the years of WW2 even bicycle racing besides social life and Bingo nights. In its time of life, the club has had three tracks for Dirt Track/Speedway.
A Track in Haarslev from 1939.
The track at Ostero from 1946 to 1954.
The track at Store Stego closed in 1984.
Since then the former great club has used other tracks like Fjelsted and Munkebo for limited racing activities with an old boys team in the Danish tournament.
In 2014 the Club seized all activities and closed.
Haarslev earth track
On june 9. 1939 the club opened an oval soil surfaced track on an area behind the road inn in the village Haarslev 4 miles south of Bogense. No information about the track length is available, but it is supposed to have been approx. 400 yds taken from some winning times over 4 laps.
The opening nearly got cancelled due to heavy showers, that made the track muddy and deep.
The clerk of the course decided to take a briefing with the riders at the inn, where a rider from Jutland came forward and asked. "Do you really think we have come all the long way to here, only to get cheated for a race". Then the matter was settled.
The race began and despite the showers the good mood under the many umbrellas prevailed. Ten heats were ridden over three laps in the classes senior 350 cc, rookies and sidecars. A final handicap heat were ridden over four laps
The next meeting (no date available) a crowd of 2500 fans gathered around the track, and watched the rider Knud Nielsen from Aarhus set a track record of 1,21 minute.
On August 20 the number of fans had grown to 4000 around the track. An Expert class – Three riders from Copenhagen on JAP bikes – and a senior class on standard bikes were in the programme.
Furthermore a sidecar class with those days' celebrity H. Skov from Copenhagen on a Harley Davidson, and in the rookie class among others the young Svend Nissen could be seen. (in 2008 he celebrated his 90. birthday)
In the standard class a rider from Kolding, Vitus Kelvang, was seen riding a Nimbus motorcycle (750cc).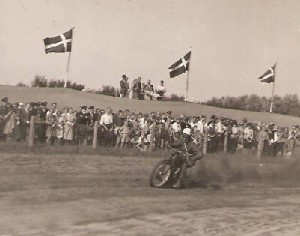 August 20, 1939. Stylish riding at Haarslev, Baltzer Hansen, Copenhagen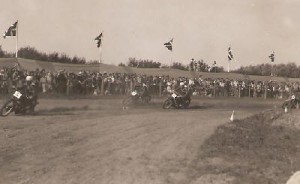 A race situation at the Haarslev track
The track didn't get a long life. WW2 broke out and during the German occupation of Denmark from 1940 to 1945 all private motoring was banned.
If you posses any information, stories, pictures or other material regarding this track,
you kindly would make available for this website, Please do so by proceeding
to the contact page or by using the e-mail address: sk@speedwaylife.com
Thank you very much in advance.