July 1931
In July 1931 a temporary track, approx. 400 m. long, was laid on the cattle show & sports ground in the mid Zealand town Ringsted.
In connection with the agricultural show in 1931 Mid Zealand's Motor Sports club in collaboration with the Amateur Motor Club on the show's last day – presumably Sunday 5th July –  a show meeting on this track.
The famous Copenhagen dirt track rider "Sprouts" Olsen helped in obtaining a field of 12 Danish riders from Copenhagen to participate in the meeting, which featured 16 heats of various kinds.
The day began with track record attempts by Einer Hansen. First, over 1000 meters, as Hansen rode in the time 1,03,6 minutes. Then he rode an English mile in 1,48,3 minutes.
Thorkild Clausen was also bound for a record attempt, but fell ill and got instead taken to the hospital for observation for appendicitis.
A handicap over 1 mile with fixed start was won by Knud Hornung in the time 1,57,6 ahead of Chr Brünich.
1000 m with flying start was won by Einar Lorentzen  in 1,00,0
Crack race over four laps were by 6 points won by Einer Hansen in front of Einar Lorentzen and Ingemann Rasmussen  with 2 points each..
1 mile race with flying start went in time 1,40,8 to Ingemann Rasmussen front Einar Lorentzen and Einer Hansen.
And finally William Petersen won a 4 laps handicap with fixed start in 1,37,2 ahead of Emil Hansen and Einer Hansen.
10. September 1933: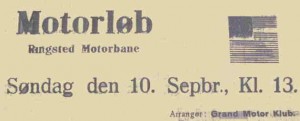 After having laid idle for a couple of years attempts were made to revive the old track. A consortium, among others, the from Karrebaeksminde known rider and cigar smoking dentist Ferdinand Olsen got after negotiations with the municipality allowance for 3 meetings on the track. A club named Grand Motor Klub should be organizer.
Many renowned riders, who had spent the summer riding on the Ganloese terrain track, grasped the chance to ride on a  flat track.
Unfortunately was the planning of the meeting and the advertising too poor, so the audience was not more than 700, which gave the organizer a substantial loss of money.
A couple of crashes occurred, but not with more damage than a bent handlebar and a torn set of trousers.
Results:
1. race:
1. Leif Hirsborg.
2. Oluf Jensen.
3. Tage Schmidt.
Consolation heat:
1. Ferdinand Olsen.
2. Arne Petersen.
Sidecar:
1. Th. Bentzen.
2. Oluf Hansen.
Omnium 350 cc: 1. Tage Schmidt.
Omnium 500 cc: 1. Sofus Jensen.
Handicap:
1.Ferdinand Olsen.
2. Sofus Jensen.
3. Axel Jensen.
5. juli 1936:
A grass track meeting and a motor rodeo  was announced. But no report or list of results has ever come forward. Therefore presumably this was the end of the track's story.
If you posses any information, stories, pictures or other material regarding this track,
you kindly would make available for this website, Please do so by proceeding
to the contact page or by using the e-mail address: sk@speedwaylife.com
Thank you very much in advance.