Facts:
Track name: Traedballe Track
Track owner: The motor club "Speed" Vejle
Track adress: 200 Varde road, DK 7100 Vejle
Length: ? see note.
Track surface: Hard rolled soil.
Track record: 1,20,2 sec.
Record holder: Bent Kjeldsen, Vejle d. 5/6 1957
Opened year/date: 5/6 1955
Closed year/date: Ca. 1958
Note:
The track dimensions are not filed, but calculated from heat winning times it must have been approx. 350 m. long.
AN INN, A POLKA, A VIEW POINT AND A MOTORCYCLE TRACK.
(Source: Vejle City archive)
Name the "Traedballe House", immidiately elderly Danish people remember the restaurant and dancing hall located at Varde road in the northwestern outskirt of the east Jutland town Vejle. Here the landlord, composer and musician Frederik Iversen (1864 – 1948) had his heydays from 1925 to 1937 accompanied by fellow musicians playing merry dance music of which his own composition "Traedballe house polka" was the best known, often being broadcasted then and many times later by Denmark's Radio.
(Listen to the polka, follow the link below)
http://www.spillefolk.dk/nodesamling/visnode.php?key=pk-trzdbal
The restaurant continued many years after Iversen's retirement, rebuild after a blaze in 1954, until closing in 1975.
Adjacent to the restaurant there is a tall bushy hill on top of which Iversen in 1930 established a view point named "Himmelpinden" (eng: The Heaven Stick) with a big granite stone engraved with a poem, and a flagpole. From there a panorama view over Vejle town and the fjord can be enjoyed.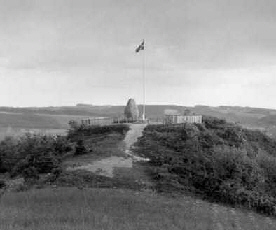 The "Himmelpind" overlooking the landscape
After the closing of the restaurant the Himmelpind detoriated and got overgrown until 1996, when it got restored by a fund raising culture committee.
Since the closing in the mid 30-es of the dirt track at Horsens road Vejle town had no racing track for motor cycles. Then in 1955 the motor cycle club "Speed" got permission to build a track in the hilly terrain west of the Himmelpind. A substantial digging job got voluntarily performed by soldiers, who had returned from guard service in Itzehoe W. Germany. Their efforts got rewarded with an opulent dinner and dance party at Traedballe House.
June 5. 1955 Opening meeting:
The track opened on the night of Constitution day June 5TH 1955 with a race programme of solo bikes and sidecars, and with renowned riders as well as lesser knowns mainly from the organizing club.
Although the track was mainly oval shaped, it was not like a common speedway. Located on the hillside and following the terrain it had slopes up and down. Somewhat rutted and bumpy it also was, which caused some dramatic crashes, luckily all without injury. Among the experts, Erhardt Fisker from Copenhagen showed daringly riding and sat a track record on 1,20,7 min. Despite that, he had to give in for the Skanderborg rider Aksel Müller's more constant riding.
Results:
Ekspert 500 cc:
1. Aksel Müller,                    Skanderborg
2. Erhardt Fisker,                 Copenhagen.
3. Jørgen Stabirk,                 Copenhagen
Senior sport 500 cc.
1. Arne Svendsen,               Silkeborg
2. Borge Morch,                  Kolding
3. Knud Nielsen,                  Aarhus
Junior sport 500 cc:.
1. Henning Jensen,              Copenhagen
2. Knud Jorgensen,              Vejle
3. Johannes Nedergaard,    Vejle
Expert sidecar:
1. Leo Petersen,                   Copenhagen
2. Egon Walther,                  Copenhagen
3. Børge Thy,                        Copenhagen
Senior Sidecar:
1. Willy Baasch,                   Odense.
2. Erik V. Andersen,             Vejle
3. Svend Schmidt,               Kerteminde
Handicap solo:
Jeppe Ussing,                       Borkop
Handicap sidecar:
Hans Nielsen,                      Haderslev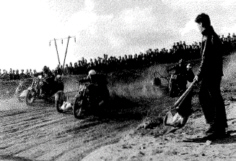 Sidecars in tense fight on the deep and rutted track
June 23. 1955, Benevolent meeting:
The next meeting was on St. John's night. It was organized for the benefit of the Vejle & vicinity branch of the National committee for disabled people. Despite ominous clouds the weather kept dry, and the meeting got finished with a great bunfire and fireworks, watched by 5000 spectators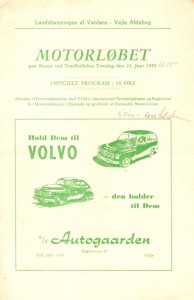 The programme cover from the St. John's night meeting 1955.
September 25. 1955, End of season:
The closing meeting on September 25th same year suffered from riders who didn't show up, riders retiring from heats and some heats cancelled. No doubt the weather of the early fall influenced the event.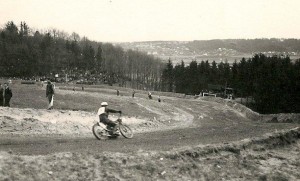 A track view from another angle, giving a survey over the terrain.
The rider on t he picture is said to be Gunnar Spitfejer riding a JAP.
Note the height difference outside the wall in the next bend.
This was one of the few times 500 cc specials rode on the track, and it was no success. The track was far too bumpy for the light bikes with their rigid rear frames and short front fork springs. Only 2 heats out of 4 planned got ridden. The winning times were up to 30 seconds slower than those of the senior standard bikes.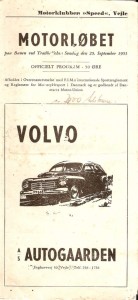 Cover from the last meeting in 1955.
April 22.  1956, Season opening:
Nevertheless the track opened the 1956 season on April 22nd in bright sunshine with 3700 fans attending, who with a programme containing 7 classes, a win for the local junior sidecar pilot Erik From Pedersen and a second place for the likewise locally Niels Wissing in senior solo got much to enjoy.
.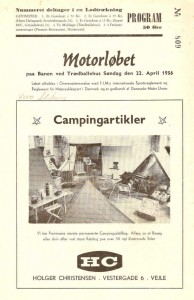 The opening meeting 1956.
Results:
Special 500 cc:
1. Otto Nielsen                     Odense,          16 point.
2. Gunner Jensen,                Aarhus              8 point.
3. Kaj Jensen,                        Viborg               8 point.
Junior std. 500 cc:
1.Poul Sorensen,                  Aarhus            14 point.
2. Bent Christensen,            Aalborg             8 point.
Senior Sidecar:
1. Orla Nielsen,                     Copenhagen     9 point.
2. Gutfeld Lehd,                    Vejle,                 9 point.
3. K. Christensen,                 Aalborg              5 point.
Junior Sidecar:
1. Erik From Petersen,         Vejle                10 point.
2. Kaj Voigt,                          Horsens             8 point.
3. Erik Bob Jensen,              Horsens             5 point.
Handicap solo:
1. Niels Moller,                     Viborg
2. Knud Petersen,                Aarhus
3. Chr. Christensen              Aalborg
HandicapSidecar:
1 Hans Chr. Andersen,        Odense.
2. Günther Bommé,            Haderslev
3. Erik Bob Jensen,              Horsens
July 10 1956:
The sidecar class was strongly spearheaded by Willy Baasch from Odense and H. C. Callesen from Aabenraa.
Although Willy Baasch is credited for the sidecar track record 1,25,0 min., it was "Calle" that came out the better that day:
The competition was so tense, that the vehicles several times collided, and only the pilotes skill saved them from accidents. The pilot Bakmann Skovsen lost control, flew over the wall, down the steep slope outside without getting hurt.The sidecar passenger suffered a minor leg injury.
In senior solo var Arne Svendsen from Silkeborg was untouchable and won all his four heats.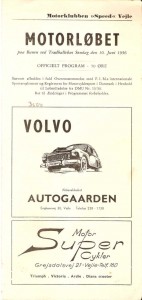 Arne Svendsen, the "Man of the day" in Senior Solo stylishly cornering the
bumpy bend on his Triumph. His riding number in the programme was 1,
but his bike was carrying number 11.
Results:
Senior solo A: .
1. Arne Svendsen,                 Silkeborg.
2. Hans Peter Boisen,           Aarhus
3. Jorgen Jensen,                   Odense
Senior solo B:.
1. Oluf K. Jensen,                  Vejle
2. Niels Wissing,                   Vejle
3. Karl M. Jensen,                 Odense
Junior solo:
1. Bent Kjeldsen,                  Vejle
2. Poul Sørensen,                 Aarhus
3. Bent Larsen,                     Vejle
Senior sidecar:.
1. H. C. Callesen,                  Aabenraa
2. Erik  Andersen,                 Odense
3. Erik Dalsgaard,                 Vejle
Junior sidecar:.
1. Erik V. Andersen,              Vejle
2. Gutfeld Lehd,                    Vejle
3. Günther Bommé,             Haderslev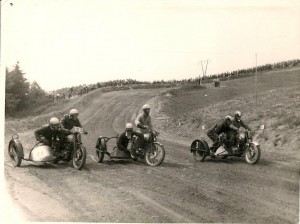 The sidecars cornering in the high end of the track.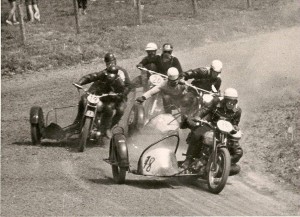 H. C. Callesen (18) leading the pack closely followed by Willy Baasch (17) inside,
Erik Andersen (19) and Erik Dalsgaard (20)
June 5.  1957, Season opening
A lightweight 175 cc standard class was added to the programme. As can be seen from the score sheet below such small bikes had no easy day on the heavy track.
Usually many riders retired from heats, but that particular day was one of the better. Most riders finished, and in particular senior 500 solo achieved fine finishing times, including Bent Kjeldsen's track record. Generally the 500 cc standard bikes looked better suited for the track. The engine power was adequate, and the spring suspensions made riding acceptable for the riders.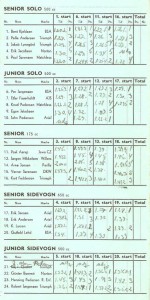 June 23.  1957, Sct. John's meeting:
This was the last meeting on the Traedballe track, we have got a programme  from.  The track existed until 1958. The Traedballe area got developed with many residential houses and newcomers. Complaints over noise and dust were filed and contributed to the closing. The track got removed with no traces left in the landscape.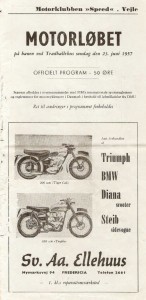 The programme contained an"all against all" sidecar match.
Below is the score sheet.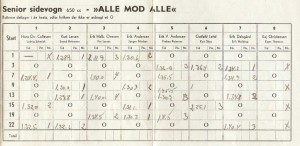 From 1958 to 1971 an open air theatre and a zoo were located at "Himmelpinden". Thereafter the zoo moved to the village Givskud and got known as Givskud Lion Park.
If you posses any information, stories, pictures or other material regarding this track,
you kindly would make available for this website, Please do so by proceeding
to the contact page or by using the e-mail address: sk@speedwaylife.com
Thank you very much in advance.