At Stego – a small penninsula north east of Bogense – a track was build mid seventies (opening date is missing). to cope with minispeedway (50 cc) as well as 500 cc speedway,

The track's approximate location marked on the map after best memory.
The mini speedway and the northwards extension for 500 cc.
As a consquence of this track layout  the bends for the 500cc riders were sharp and narrow and required excellent broadsiding skill from the riders, if the speed should be kept high. The gates and bend 3 & 4 were common for both tracks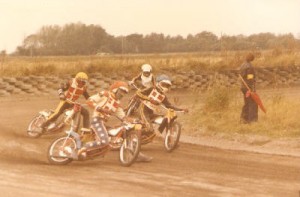 Mini speedway riders in bend 3.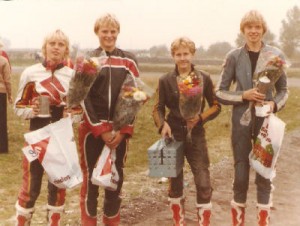 The very last 50 cc team the at the Bogense track 1982. From left Thomas Kjaer,
Bo Christoffersen, Michael Kristensen and Mogens Kjaer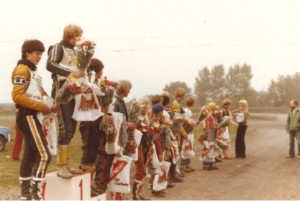 The open meetings were highly popular among the riders. There were prizes and gifts for all.
The photo taken at a prize ceremony conducted by the chairman's daughter Majbritt in 1981 shows,
that the track was build in two parts. The first bend of the mini track is visible at the first grass edge,
while the straight for the 500 cc track was extended to the bend, where the fence
was a wall of tyres filled with earth.
When after 1982 the Bogense club no longer had a mini speedway team, the mini track got removed, and the 500 cc track got re-build with larger bend radii and more width. Track length was 300 m.
Unexpected problems occured when EU declared the area a habitat area, which means a rest area for wild geese on their flight from north to south. Hence the track got abandoned in 1984.
Bogense Motor Klub joined in cooperation with Sports Motor club "Odin" and Munkebo Speedway Club to build an utilize the new 500 cc track in Munkebo, but withdrew after some time, because the costs were too high in relation to the clubs modest activity level.
Since then the club only has an old boys team, which on hire basis uses Fjelsted Speedway for their home meetings.
If you posses any information, stories, pictures or other material regarding this track,
you kindly would make available for this website, Please do so by proceeding
to the contact page or by using the e-mail address: sk@speedwaylife.com
Thank you very much in advance.