Facts:
Track name: Bred Mini speedway
Track owner: Vissenbjerg – Bred Motor Klub
Track length: 209 meter.
Surface: Brick granulate and clay
Open: 1975
In the Village Bred which is almost merged with the neighbour village Vissenbjerg in the rolling hills of West Funen.
A motor club named Vissenbjerg – Bred Motor Klub  (VBMK) saw daylight with the sidecar rider Aksel Svaneholm, who former rode for the Sports Motorclub "Odin" in Odense, as chairman.
The club got permission to build a moped speedway track on a hilltop west of the village. The 209 m. long track opened in 1975, and has ever since framed the club's activities which now are 80 cc. and micro speedway.
Through the years, the plant has become modernized with semi-roofed pits. The small referee's box is replaced by a two-storey brick building, in the ground floor containing an emergency room, and in the top floor a vast referee's box equipped electronic time measuring and PC based results calculation as well as Internet connection. Furthermore the club lodge got expanded and modernized with dressing room, bath room and new toilets.
The track is not allowed for 500 cc racing. Nevertheless the club has produced a number of well known riders in that class. Best known is former Team World Champion and GP rider Hans Andersen.
In 2009 the European Motorcycle Union (UEM) selected the track for the Europen 80 cc Championship. It was a  2-days  meeting, with the semi finals on Saturday and the Grand  Finalenon Sunday. Riders from 9 nations participated.
Results:
Semifinale 1.
1. Mikkel B. Jensen,           Denmark      15 point.
2. Kenni Nissen,                 Denmark,     13+3 point.
3. Jonas Engdahl,               Sverige,         13+2 point.
Semifinale 2:
1. Mikkel Salomonsen,      Denmark      15 point.
2. Rasmus Jensen,             Denmark      13+3 point.
3. Nicolaj B. Jacobsen,      Denmark      13+2 point.
Finale: 1.
1. Kenni Nissen,                Denmark       15 point. European Champion
2.  Mikkel B. Jensen,         Denmark       14 point.
3. Mikkel Michelsen,        Denmark        13 point.
 August 24.2008 Danish 80 cc Championship Final: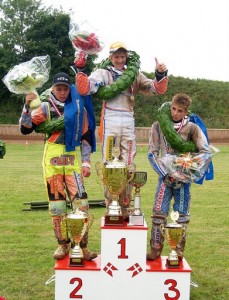 Results:.
1.Mikkel B. Jensen
2. Michael Jepsen Jensen
3. Mikkel Michelsen
Because the track is located on top of a high hill, mostly consisting of  gravel, its ability to dry out in the early spring is very good. Therefore every year it is visted by VBMK's Swedish frienship clubs for an early practice session.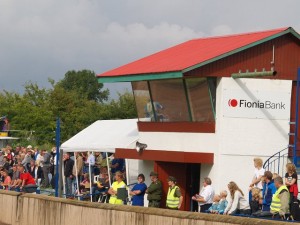 The modern referee's box on top of the first aid room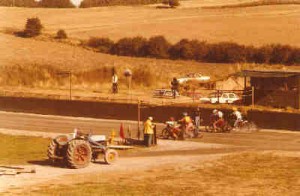 Tape is up, note the  first "referee's tower" to the right. (ca. 1980)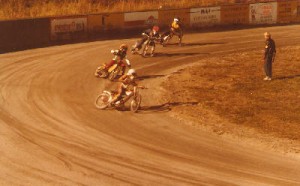 3. bend at the pit end.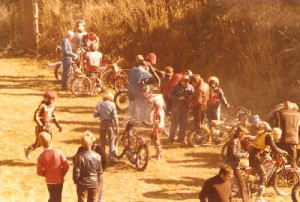 The first pit area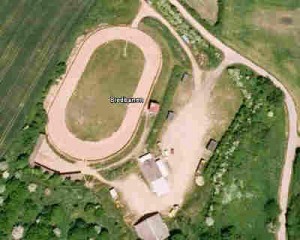 Satellite view of the Bred track 2008.
If you posses any information, stories, pictures or other material regarding this track,
you kindly would make available for this website, Please do so by proceeding
to the contact page or by using the e-mail address: sk@speedwaylife.com
Thank you very much in advance.