Facts:
Track name: Otterup Dirt track
Track owner: The Sports Motorklub Odin.
Length: 500 meter
Track surface: Earth.
Track record: 1,45,0
Record holder: Orla Knudsen, Copenhagen
Opened year/date: June 18th 1939
Closed year/date: August 13th 1939.
Otterup is a minor town located 12 km north of the greater city Odense. The track length is not written anywhere, but calculated from 4 laps winning time it must have been approx. 500 meters long.
June 18. 1939. Opening meeting:
The Sports Motorklub Odin which got established in Odense in 1938 organized the opening meeting on Otterup Dirt track.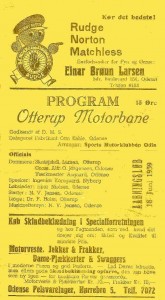 Programme cover from the opening meeting.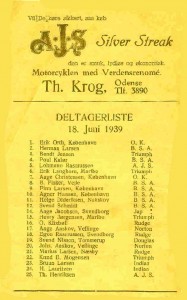 List of entries: Note No. 19, Svend Nissen,
who as the only one riding a Douglas DT 500.
August 13 1939. Second meeting:
Again SMO organized a meeting on the Otterup track. As it happened to be only 3 weeks before the outbreak of WW2, which brought nearly all motor sport activities to a halt, this meeting sadly would become the last on the track. 16 heats got ridden that day.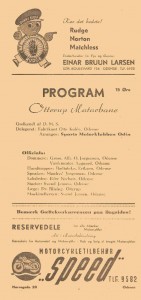 The list of entries  contained at number of riders who later became famous in Denmark and abroad, Among them the Danish Champion in 500 cc standard from 1938, Orla Knudsen who rode the fastest time on the track, Poul Kalor and Egon Walther. The engine classes were Standard 500 cc including three 350 cc bikes plus sidecars.
In the rookie class Svend Nissen who rode a Douglas DT in the first meeting had swapped to a 500 cc. Triumph.
Sidecar riders were H. Skov Copenhagen on Harley Davidson, Knud. E. Mogensen Odense on Triumph, E. Bruun Larsen Odense on Rudge, H. Lauritzen Odense on Indian, T. Henriksen on AJS and Carl Emil Jensen Odense on Royal Enfield.
If you posses any information, stories, pictures or other material regarding this track,
you kindly would make available for this website, Please do so by proceeding
to the contact page or by using the e-mail address: sk@speedwaylife.com
Thank you very much in advance.