Casa Arena Horsens
Name: Casa Arena Horsens.
Owner: AC Horsens A/S.
Address: Langmarksvej 59, 8700 Horsens
Capacity: 12.500 spectators.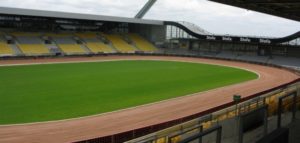 The stadium is a modern, very flexible facility with large grandstands with seating at the straights and one at one end, while the other end can be installed as needed with mobile seating and standings. On a three-year contract with DSI, international Grand Prix competitions were held in the series of the individual World Cup in Speedway. The Speedway track at Horsens Stadium, like other of the stadium tracks, is set up as a one-off track in a week up to the year's Danish Speedway Grand Prix, and is removed again the following day. See the picture.
Open: 08-08-2015.
Length: 272 meters.
Track record: 54.57 seconds.
Record holder: Maciej "Magic" Janowski, Poland
Date: 11-06-2016
08-08-2015: Kjærgaard Danish FIM Speedway Grand Prix: Already the day before, the participants were presented in the city and at the practice session on the track there was free access to the public. On the day and the day before there was an exhibition in front of the stadium where different motor clubs had stands, and there was a small track, where children could try a ride on some of the small micro motor cycles.
With permission from this site, Horsens Motor Klub had set up a planch with the story of the long time closed speedway in the Frederikslyst forest by Losning.
Results: Final:
1. Peter Kildemand, Denmark. (3,0,d,3,2,3,3) = 14 p.
2. Matej Zagar, Slovenia. 12 p.
3. Michael Jepsen Jensen, Denmark. (1,2,3,1,3,2,1) = 13 p.
4. Tai Woffinden, England.
8, Nicki Pedersen, Denmark. (3,d,0,3,1,0) = 7 p.
11. Niels Kr. Iversen. Denmark. (0,1,3,2,1) = 7 p.
12. Wildcard rider Mikkel Michelsen. (0,3,0,2,1) = 6p.
In Heat 7 he defeated Chris Holder, Greg Hancock and Peter Kildemand.
11-06-2016: Kjærgaard Danish FIM Speedway Grand Prix:
Results:
Final:
1. Maciej Janowski, Poland. 16 p.
2. Chris Holder, Australia. 13 p.
3. Tai Woffinden, England. 15 p.
4. Nicki Pedersen, Denmark. (2,1,2,2,1,2,d) = 10 p.
10.Niels Kristian Iversen. (2,1,d,3,1) = 7 p.
11. Peter Kildemand. (0,2,1,1,3) = 7 p.
14. Wildcard rider Anders Thomsen. (1,2,2,0,0) = 5 p.
If you posses any information, stories, pictures or other material regarding this track,
you kindly would make available for this website, Please do so by proceeding to the contact page or by using the e-mail address: sk@speedwaylife.com
Thank you very much in advance.