Dirt Track
Facts:
Track name: Korsoer dirt track
Track owner: Mid Zealand's Motor Sport.
Length: 275 m,
Surface: Sand
Opened: 10/5 1930 Closed: 1932
Korsoer is a town located on the eastern coast of the Great Belt and was, before the Great Belt Bridge opened, the harbor town for the ferry lines to the island of Funen.
The town has since the early days of Danish motor racing hosted various branches of motor sports like e.g. track- and road racing.
Around 1930 once per year the silence in the Korsoer Leisure Forest (da. Lystskov) got broken by noise from motor bikes, participating in a TT-race ridden on a triangular course laid on the forest paths: Exciting enough for the riders, but spectators could only watch the riders on short sectors of the course between the trees.
Mid Zealand's Motor Sport took in 1930 together with the landlord on the restaurant "Forest House" in the Leisure Forest the initiative to build a dirt track next to the restaurant. Some sectors of the track lay very close to the trees, and when the renowned rider Holger Sonderup hit one while practicing it became clear, that the track would be too dangerous to race on.
Then a peculiar companionship emerged: In cooperation with the local football club a double header meeting got organized. On May 10th first a soccer match was played between Korsoer Football Club and a team from Höganäss in Sweden, and afterwards the motor club absolved a dirt track meeting on a 275 m. long sandy track surrounding the football ground.
With 5000 spectators watching many good heats, mostly dominated by famous riders from Copenhagen, the meeting could be regarded as a success.
But the sandy track quickly got rutted in the bends, and the fine dust was a nuisance for the public.
For some weird reasons all track record attempts were placed last in the programme and consequently failed.
Results:
Junior: Skov Ludvigsen.
Senior heat 1:
1. Kaj Johansen
Senior heat 2:
1. Sejer Dybro
Senior final:
1. Anker Ishoyer.
Expert heat 1:
1. Helge Jensen
2. Sv. Aa. Sorensen.
Richard Darup retired.
Expert heat 2:
1. Sejer Dybro
2. Arne Fog
Ib Kroyer Christensen fell.
Expert final:
1. Helge Jensen, won the "Golden helmet" in best time 1,05,0 min.
Sidecars:
1. Arne Fog.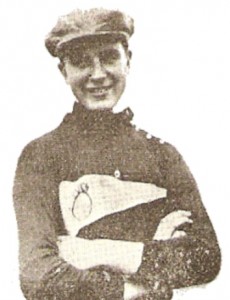 Helge Jensen, Copenhagen, dominated in Korsoer.
It quickly got realized that the track – short, rutted and dusty as it was – would never attract more important meetings.
In 1933 a new 750 m. long track got built in the green area between the forest and the beach.
Facts:
Track name: Korsoer long track
Track owner: Mid Zealand's Motor Sport and Korsoer & Vicinity's motorclub.
Length: 750 m.
Surface: Grass and earth.
Opened: 1933
Closed: 1940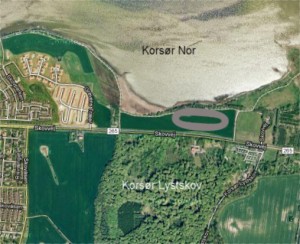 Satellite view of the area where the Korsoer long track got built in 1933.
The grey oval symbol indicates the approximate location
1933, Opening meeting:
Results:
First race:
Initial heat 1, 4 laps:
1. Svend Aage Sorensen,                 Norton.
2. Henry Jorgensen,                          Rudge.
3. Holm Madsen,                               Royal Enfield.
Initial heat heat 2, 4 laps:
1 .Axel Jensen,                                 Norton.
2. Malvig Christensen,                      A.J.S.
3. Edward Jensen,                            Norton.
Final heat, 6 laps:
1. Svend Aage Sørensen,                 Norton.
2. Axel Jensen,                                 Norton.
3. Malvig Christensen,                      A.J.S.
2nd race, track records, 4 laps:
1. Svend Aage Engstrom,                 2,18,0.
2. Agner Hansen,                              2,20,3.
3. Hans Chr. Jorgensen,                   2,36,2
3rd race, Club contest:
1. Sports Motorclub Copenhagen.
2. Zealand's Motor Club.
3. Funen's Motor Sport.
4. Roskilde & Vicinity's Motorclub.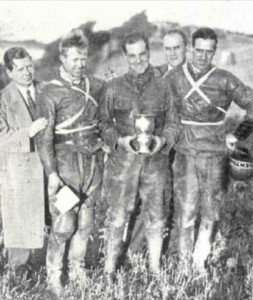 Sports Motor Club Copenhagen's winning team:
From left: chairman engineer Mr. Oers.
Svend Aage Sorensen, Aage Wagner og Henry Jorgensen.
The person behind we do not  know.
4th race, Individual contest:
1. Svend Aage Engstrom.                 Rudge
2. Agner Hansen.
3. Svend Aage Sorensen.                 Norton
5th race, Sidecars:
1. H. Skov,                                         Indian.
2. Rud. Petersen,                              Harley Davidson.
3. H. Bengtsen,                                 Harley Davidson.
Already at the next meeting Engstrom's track record  fell, when Helge Jensen on his Suecia bike rode in 2,17,2.min.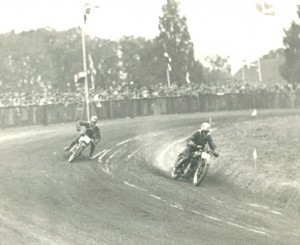 Korsoer long track in 1933
When in 1933 the Danish Motor Union could not get access to Amager trotting track, the Korsoer track got chosen for the Danish Championship finals. More than 3000 fans witnessed and lively applauded a nearly superhuman performance from Svend Aage Sorensen who, besides winning the championship in two classes, had excess power to participate in the sidecar class and end up fourth only 1 second away from third place in the final, despite the fact, that his 500 cc. engine had only half the size of his opponents.
Results:
500 cc:
1. Svend Aage Sorensen,
2. Sejer Dybro,
3. Poul Kalor.
350 cc:
1. Svend Aage Sørensen,
2. Ivan Jensen,
3. Tage Schmidt.
250 cc:
1. Agner Hansen,
2. Holm Madsen,
3. Peter Nielsen.
Sidecars:
1. David Axelsson,
2. Herluf Skov,
3. Th. Bengtsen.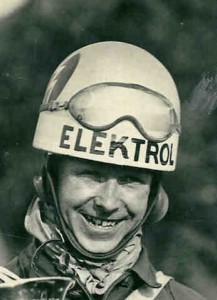 Ever smiling Svend Aage Sorensen
 October 1. 1934
In October 1934 Svend Aa. Sorensen once again claimed the Danish championship. This time his bike was J.A.P powered instead of Norton as the foregoing year. He was also listed in the 350 cc. class, but withdrew after blowing his engine in the morning's practice session. Also the defending sidecar champion Davis Axelsson suffered engine failure and lost his title.
Results:
Special 500 cc.:
1.  Svend Aa. Sorensen,                   J.A.P.
2. Bent Jensen,                                 Rudge.
3. Poul Kalor,                                    British Excelsior
Standard 350 cc.:
E. Truelsen,                                       Husqvarna.
Standard 250 cc.:
Leif Hirsborg,                                     Rudge.
Sidecars: H. Skov,                             Indian.
1935
The track was restricted to few meetings in 1935 and achieved only modest economic results, although the meetings were organized at low cost. In 1936 and 1937 there are no reports from important meetings,
1938: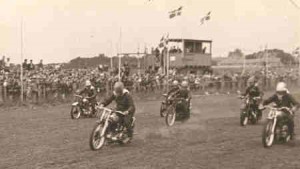 Away from the gates, Danish Championship 1938
The 1938 Danish Championship final in the standard 500 cc. Class was ridden on the Korsoer track. It was won by Orla Knudsen riding a 500 cc Norton. See pictures below. The special 500 cc. did not ride here but on the Amager track.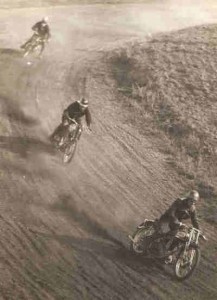 Full throttle through the bend. Orla Knudsen leading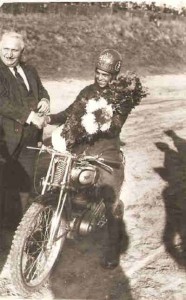 Danish Champion Orla Knudsen being awarded the laurels.
The same programme included a 15 lap's heat with 8 riders. Every rider that got lapped had to retire from the heat. Finally there was a pair's race with 7 pairs over 25 laps. So surely there must have been crowded through the first 3 – 4 laps, and it is fair to say that the riders really had to work for their earnings.
Watch this race on:
http://www.danskkulturarv.dk/dr/motorcykell%C3%B8b-ved-kors%C3%B8r/​
April 23rd1939:
One leg of a four legged team match between the three islands, Zealand, Funen and Lolland was ridden on the track, organized by the motor club "SPEED".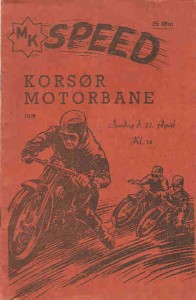 Programme cover 1939
Like all other Danish track also this track had to seize the activities in 1940 due to the war. Korsoer & Vicinity's Motor Club returned to action in 1946 with meetings on the Loeng speedway near Soroe.
If you posses any information, stories, pictures or other material regarding this track,
you kindly would make available for this website, Please do so by proceeding
to the contact page or by using the e-mail address: sk@speedwaylife.com
Thank you very much in advance.