Speedway.
Facts.
track length: 477 m.
In 1946 Gentofte Athletic stadium was the first after WW2 to open as a speedway track in Copenhagen. Soon it became the venue for a long series of test matches between Denmark, Norway and Sweden.
Saying Gentofte stadium, in the same breath you need to say Orla Knudsen, the strong rider from Copenhagen, whom the press promptly nicknamed "The King of Gentofte". A statistic from 1950 shows that Knudsen topped 2/3 of the races he rode that year.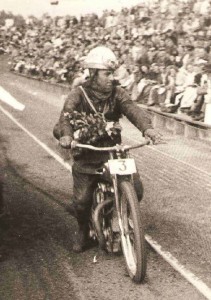 Orla Knudsen cheered by his large crowd of fans at Gentofte.
His career began in 1934; his breakthrough came on the Korsoer track by winning the Danish championship 1938 in the Standard 500 cc on a Norton bike. As everybody else the war gave him a not wanted break, but as soon as possible he returned to speedway on a JAP. Mid fifties he stopped his motorcycling career and took up car racing in a Lotus Climax until 1959, when he stopped racing.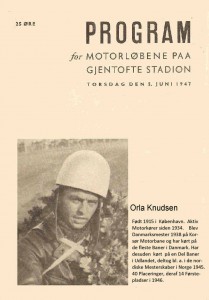 A Gentofte programme cover with Orla Knudsen,s picture.
Usually on every new cover one of the riders e.g. Leif Bech,
Erhard Fisker etc. had their picture on the cover
Among other very popular riders in Gentofte were the Norwegian phenomenon Leif "Basse" Hveem and the Swede Evert Fransson nicknamed "Kumla" after his Swedish home track.
At that time Norway had a bunch of riders who were nearly as good as Basse Hveem, and the Norwegian team won the majority of the test matches. Some Finnish riders also joined these test matches, but they never really played a major role.
The Norwegian National Team at Gentofte 1948. From left;
Thorleif Andreasen, Henry Andersen and Basse Hveem.
Behind Hveem team manager Rolf Lau.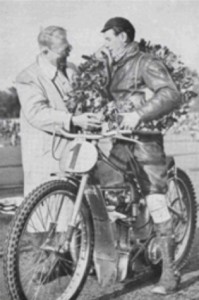 Basse Hveem gets his laurels as Nordic Champion on October 3. 1948
presented by Mr. Hoffmeyer, General manager of DMU.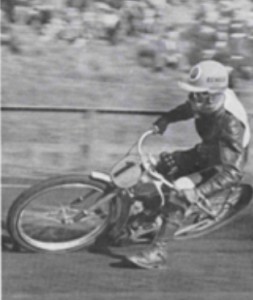 A style study at Gentofte. Basse Hveem masters the track
as well as his bike to perfection.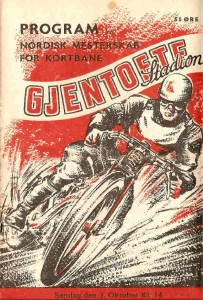 The programme cover from the Nordic Championship 1948
is a copy of a pre-war English programme.
The Nordic Chamionship also included a nations match between Denmark, Norway and Finland.
The aggregate time for each nation's 3 fastest riders decided the result.
The Norwegian team, Basse Hveem, Leif Samsing and Thorleif Andreasen won with a total of 4,25,6.
Individually Basse Hveem was fastest with 1,27,4. Orla Knudsen came second with 1,28,7.
In the Finnish team only Reiner Grönroos with the time 2,02,4 achieved a notation.
The heydays at Gentofte lasted until 1954. The stadium is still there as it can be seen on the aerial photo from 2008. Theoretically the stadium could be prepared for speedway on short notice, and such ideas have been brought forward.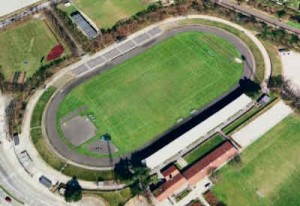 Gentofte Stadium today seen from the air. The cinders track is fully intact.
Realistically; speedway's return to Gentofte is no option. Due to much stricter regulations for noise emission from the bikes to the residential areas nearby, the council of Gentofte will never allow it.
If you posses any information, stories, pictures or other material regarding this track,
you kindly would make available or this website, Please do so by proceeding
to the contact page or by using the e-mail address: sk@speedwaylife.com
Thank you very much in advance.