Facts:
Track name: Glostrup Motorbane
Track owner: "Copenhagen Raceway" Ltd.
Length: 1666 m.
Surface: Hard rolled clay
Width straights: 40 m.
Width bends: 40 m. and 5 % banking
Opened: August 12. 1922
Closed: 1928.
(Sources: Motorsport Memorial, Danish Motorsport's Blue Book, Jorgen Lind, Sverre Knutzen Gerber and DMU's archive.)
Not the first but the largest  oval motorcycle race course in Denmark with inspiration and experience gathered from the Brooklands course in England got inaugurated in Glostrup west of Copenhagen on the 12th August 1922 with betting and several thousand spectators visiting. Here is the story behind.
When around 1920 the management of "Dansk Motor Klub" sensed an increasing general aversion to motor speed contests on public roads, great thinking was brought forward in the motorsports magazine "The Motorcycle".
A permanent course for motorcycle- and automobile racing should be built. The idea won support from a number of prominent Danish motor sports people who recommended that the proposal should be realized swiftly to prevent other parties to exploit the idea first and take the expected profit.
The "Danmarks Motor Union" should be the legal body behind the proposal and apply for all permissions needed from the authorities.
At the union's general assembly a group got selected to provide plans for the size and location of the course and not least a budget, because a need for substantial capital was foreseen.
The group immediately opened negotiations with a party of well known motor people who had option on an area near Lyngby north of Copenhagen and a cost estimate of approx. 6 million DKK. However the Lyngby project never got realized.
A three-man party headed by General secretary Ove Bendixen was sent to England to study the famous Brooklands race course and gather informations. The inspiration from there was clearly visible later in Glostrup. In 1921 the company "Copenhagen Raceway Ltd" saw daylight and began raising funds to build the track and negotiate leasing contracts with land owners.
Late in the fall of 1921 a 440.000 m2 large area in Glostrup was acquired and construction work could begin.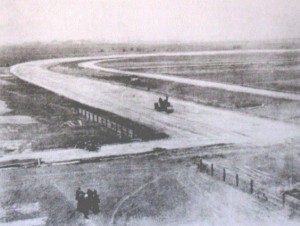 Construction work in progress. A steam roller is packing  the clay surface
while the the project management is studying a drawing in the corner.
North – south direction of the straights  
A 1666 m. long oval track 40 m. wide with 2 m. banking in the bends, usable for motor cycles as well as for automobile racing, all the way round fenced by an earth wall to prevent vehicles from running over the edges. The hard rolled clay surface allowed speeds widely surpassing the capacity and handling properties of those days' vehicles, was ready to open.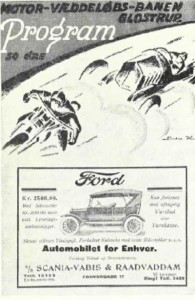 The programme cover from the opening day  .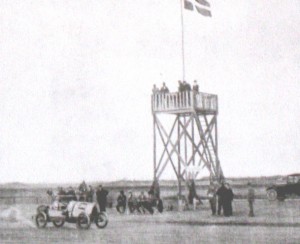 The referee´s stand in 1922. In 1923 it got replaced by a more safely looking tower.
The car is a Bugatti driven by chief tailor N. Christensen, (the"Bugatti tailor").
Already on the opening day the track claimed its first casualty. The Norton rider M. P. Jensen crashed fatally because his front tyre ran off the rim. The fact that the use of a crash helmet was not compulsory then, most likely added to the result of the accident.
The second casualty occurred on Saturday October 1st. same year. The very active and well reputed motorcyclist Albert Petersen lost his life after an accident on the track. Riding for full throttle at high speed on his Indian bike he ran from behind into the Norton rider F. Hansen, who had gated best but suffered engine troubles in the last bend. Both riders ended up in the wall, and were rushed to hospital, but Albert Petersen died over night from internal injuries.
For the 1923 season a new grandstand with restaurant for the public as well as a new tower for the referee was built. Really it was an opulent, beautifully and for those day's standard very expensive stadium – much too expensive – it proved later.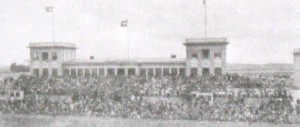 A view to the restaurant and the terraces .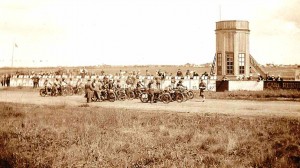 Lining up at the gates.  
The economy was limping and it was doubtful whether the season could open or not, because some of the landowners had not been paid the rent for 1922. However the problem got solved and the season opened on the 5th of June with an impressing turn-out of Danish and international riders.
International meetings continued on the 22nd July and the 9th of September. In particular Erik Westerberg from Sweden, Macke Nicolaysen from Norway and the German Ernst Eislinger were successful at these meetings.
Still remembering last year's casualties everyone on July 22nd kept their breath, when the Danish car driver Carl Holzer took a double roll over in his Salmson racer. Miraculously with only minor bruises he was able to walk away from the beyond recognition crushed car wreck.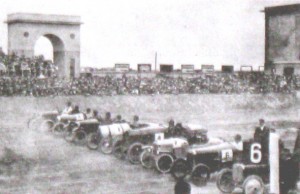 Automobiles at the starting line. The white Bugatti in the middle is the "Bugatti tailor".
Note the "L'arc de Triomphe", which was the main entrance to the stadium
The Internordic 20 km. race series for "The Farris cup", got first time staged in Glostrup in 1924 and won by the Dane Georg Hansen, who same place repeated his victory in 1925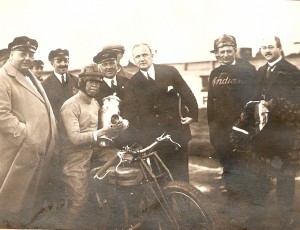 On the bike Georg Hansen with the 50 cm. tall Farris Cup and a smaller replica.
Left the imposant treasurer Mr. Ove Bendixen,
Rightmost Mr. V. Hoffmeyer ready with the laurels.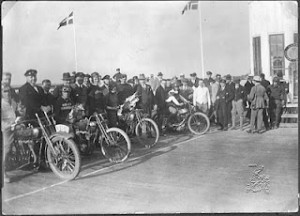 The line up for a Danish, Norwegian, Swedish and German nations match 1924.
In the press called the most exciting race on the track. To left, the Norwegian
Macke Nicolaysen, next to him, as always and everywhere Mr. Bendixen.
Then Erik Westerberg, Sweden and Christian Walther, Denmark.
Inside is Albert Schuster from Germany

Programme cover from the season opening on June 1st.1925..
An impressive turn out of riders from Denmark and abroad joined this meeting. Many different motor cycle makes and models were present. The Prize list contained heavy silver cups and large prize money, which all got payed cash in French Francs. Example given: In 4th race the winner received 1000 Fr. A heat winner got 100 Fr.
1. Race: Scratch race (standing start on line) over 3 laps = 5 km.
2. Race: Same, but for engines up to 350 cc only.
3. Race: Same, but for engines from 492 to 749 cc.
4. Race: Same, but for engines up to 1200 cc.
5. Race: Invited race for all engines, 2 heats.
6. Race: Handicap race with med time credit in seconds, all volumes.
2 preliminary heats + final heat with no. 1, 2 and 3 from each prel. heat. Same time credit in the final.
List of riders:
| | | | | | |
| --- | --- | --- | --- | --- | --- |
| No. | Name | Nation | Motor cycle | Vol. ccm. | Seconds |
| 1. | Ernst Vaumund | Norway | Harley Davidson | 998 | |
| 2. | Aksel Rasmussen | Denmark | Harley Davidson | 998 | 15 |
| 3. | Julius Jensen | Denmark | Harley Davidson | 998 | |
| 4. | Johs. Barnucka | Denmark | Sarolea | 499 | 20 |
| 5. | W. Ingvardsen | Denmark | Excelsior | 998 | 12 |
| 8. | I. H. Rijk | Holland | New Imperial | 348 | 26 |
| 9. | Michael Alfter | Schweiz | A.J.S. | 348 | |
| 10. | Folke Mannerstedt | Sweden | F. N. | 348 | 28 |
| 11. | Gunnar Jacobsen | Denmark | Chater Lea | 348 | |
| 12. | Charles Andersen | Denmark | A.J.S. | 348 | 24 |
| 13. | Aage Sild | Denmark | Chater Lea | 348 | 26 |
| 14. | E. Jensen | Denmark | A.J.S. | 348 | 24 |
| 15. | P. Isbrandsen | Denmark | Raleigh | 348 | |
| 16. | Knud Hornung | Denmark | Chater Lea | 348 | 24 |
| 17. | Paul Köppen | Germany | B.M.W. | 499 | 18 |
| 18. | Robert Vidal | Belgium | Sarolea | 499 | 20 |
| 19. | Carlo Vertua | Italy | Douglas | 749 | |
| 20. | Gino Zanchetti | Italy | Guzzi | 499 | 20 |
| 21. | Ludvig Hansen | Denmark | Sunbeam | 492 | 24 |
| 22. | C. V. Hansen | Denmark | Triumph | 499 | 22 |
| 23. | Georg Hansen | Denmark | Triumph | 499 | |
| 24. | Holger Karlqvist | Denmark | Humber | 598 | 28 |
| 25. | Chr. Jensen | Denmark | Norton | 499 | |
| 29. | O. P. R. Olsen | Denmark | Harley Davidson | 998 | 15 |
| 30. | Knud Rasmussen | Denmark | Indian | 998 | 8 |
| 31. | Otto Hansen | Denmark | Indian | 998 | 0 |
| 33. | Chr. Walther | Denmark | Indian | 998 | |
Unfortunately we have no list of results.
The American rider Paul Anderson, known as the world's fastest rider achieved in 1925 a speed of 141 km/h on the Glostrup track.
Among the car drivers once again fate was severely at stake when the "Bugatti tailor" N. Christensen with a passenger – George Valery – in the car at high speed skidded out and crashed in the north bend. After a couple of roll-overs the car landed torn apart in the infield grass. Christensen suffered a broken right arm and some scratches in his face. Valery escaped unhurt. Both could easily have been killed.
Often the heats were very long, e. g. 10, 20 or from time to time 50 km, with 20 to 25 riders. They could seem somewhat boring and difficult for the fans to keep record of. Furthermore the track area was large and although the view was free, the riders often were far away from their fans.
There were much more close contact on the smaller dirt tracks which from 1920 and on emerged all over the country, also on Zealand, among others in Koege 1926, but in particular the Roskildevej's dirt track from 1928, much closer to Copenhagen and the greater potential of spectators. The competition for spectators was hard. The interest for the big stadium diminished, and the economy detoriated rapidly.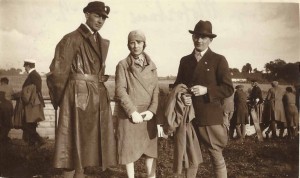 We do not know who these people are attending the Glostrup races
on the 16th September 1928.The few people standing at the fence
explain the crisis for the track.
Through 1925 the organizers were marred by a substantial loss of money, which forced them to leave the track idle in 1926 and 1927. The track got declared closed and re-usable materials got offered for sale.
Nevertheless, funds were found to reopen the track on June 24th to stage the "Farris Cup" meeting 1928. Only 7 riders participated. The Swede Gunnar Kalén won in the time 11,30 minutes for 12 laps = 20 km. (104 km/h)
The last known meeting before the Glostrup track closed for good, was staged on September 16th 1920 in attention from very few spectators.
Gert Nilsson from LImhamn/ Malmo in Sweden sent us a letter and two pictures, from which it  appears, that this meeting also was two legs of the "Farris" cup series. We have translated an extract of his letter from Swedish below..
"My father Axel F. Nilsson rode there on 16-09-1928 in a 20 km handicap, and came on second place. I only know that he rode with 150 km/h, but they did not believe their own timekeeper's stopwatches, although his own timekeeper said, it was correct. The heat got re-run but then the engines no longer could go for full, so the speed ended on 142 km/h. He got pipped on the finish line by another – most likely – Swedish rider. I have heard that my father rode an AJS for LIndblads  i Helsingborg.
It comes to my mind, that Axel (my father) told that the riders' names got displayed on some kind of electric light display. Do you know of any such advertizing facility at that time anywhere? "
Speedwaylife has answered  Gert Nilsson, that it must be the continuous loop on POLITIKEN's corner vis-a-vis the city hall in Copenhagen, where daily news are rolling continuously 24 hours/day.
We have not found the winner of the said race, but guess that it could have been Gunnar Kalén, who also won in June. If anyone knows better, we will be very happy to learn.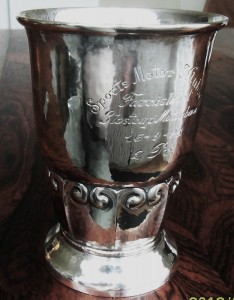 A beautiful silver cup for 2. place in the last
"Farris" meeting on the Glostrup track


and a well preserved silver plaquette for 2. place in the handicap
The very last event on the great track ironically was not a motor race but a bicycle race, organized by Danish Bicycle Club
This fantastic Stadium was doomed to demolition.
Indeed – Danish motor sport's proud "Titanic" had suffered its shipwreck.
If you posses any informations, stories, pictures or other material regarding this track,
you kindly would make available for this website, Please do so by proceeding
to the contact page or by using the e-mail adress: sk@speedwaylife.com
Thank you very much in advance.