Helsingoer Tikoeb
Elsinore Dirt track
The tiny village Tikoeb – now a part of Helsingoer Municipality – is located 6 miles west of Helsingoer town in beautiful forest landscape between lake Esrum and lake Gurre, 5 miles south of the holiday resort Hornbaek at the coast of Kattegat. Nearby the remnants of Gurre Castle, where King Valdemar 4th (Valdemar "Tomorrow is another day") died in 1375, can be seen.
Wikipedia: The name Tikoeb has roots back in the ancient time of Vikings, when it was called Tiwith after the surrounding forest named Tiwithcop, which means "the forest inaugurated to Tyr". Tyr was the name of the Vikings' god for warfare before Christianity came to Denmark.
Around 1100 Christian monks built a church on the site, and as habit was, also an inn, which – although not in the same building – has been there almost ever since.
In the magazine "Motor Bladet" in 1931 the article below from Helsingoer Motor club could be read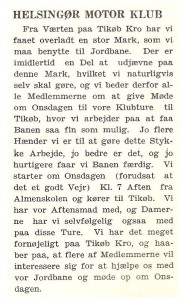 (Translated in extract)
"The landlord of Tikoeb Inn has made a large field available to us, which we may use for building a dirt track.
However some digging work is needed, which we will have to do ourselves.
We therefore request our members to show up on Wednesdays to our club trips to Tikoeb, where we work to make our track the best possible. The more hands we are for the job, the better it goes and the faster we finish.
We bring our ladies and picnic baskets and will have fun at the inn."
The meeting calendar for 1933 shows following dates for the Tikoeb Dirt Track:. May 12th, May 28th , June 5th, June 18th, July 23rd, August 6th, August 20th and September 17th ,
In the calendar for 1934 the track is not listed.
We do not have any programmes or results from the track, but the track record is on Svend Aa. Engstrom's list of unbeaten records, however without the time.
On October 10th 1931 a newspaper brought a report from the city court in Frederiksvaerk town dealing with a lawsuit against a motorcycle rider, who one night in August hit a pedestrian in the streets of Hilleroed.
On his bike he carried two passengers, of which one fell off in the accident. The police report stated that the bike was in poor condition, e. g. no light and no brakes. The rider explained that he found the bike very good, because he used to ride it on the dirt track at Tikoeb !
If you posses any information, stories, pictures or other material regarding this track,
you kindly would make available or this website, Please do so by proceeding
to the contact page or by using the e-mail address: sk@speedwaylife.com
Thank you very much in advance.