Mini Speedway
Facts:
Track name:  Fredericia Speedway Vejlby
Track owner:  Fredericia Motor Klub
Address:  Ryttergrøftvejen 1, 7000 Fredericia
Length:  202 m.
Surface:  Clay, Earth & granulated bricks
Width straights:  8 m.
Width bends:  10 m.
Open:  500 cc speedway 1958
Closed:  500 cc speedway 1971
Open: 1974 as Mini speedway / 80 cc / 50 cc micro.
Fredericia Motor Klub opened  in 1958 a new speedway for 500 cc. named Vejlby Speedway and used it until 1971 as home track for the Fredericia team in the Danish tournaments and for practicing.
From 1971 the track lay idle a couple of years until it got re-built, shortened and re-opened in 1974 as a track for moped-  or mini speedway as 50 cc speedway also was named. That changed to 80 cc speedway in 1983, and from 1994 Micro speedway entered the same track.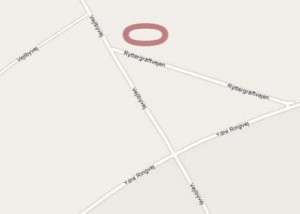 The map section shows the location of Vejlby Speedway
close to Fredericia's Outer Circular Road.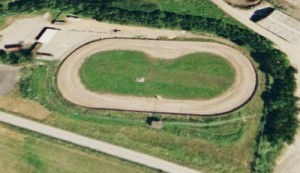 Satellite view from the same place
From the satellite a part of the outline of the earlier 500 cc track can be recognized as a curved line in the terrain from the pit area left though the referee's box into the trees to the right.
By and by the track got improved with a wooden safety fence and a fence for the public, and in 1984 it got approved by the Danish Motor Union as a public track.
With various modernizing like semi roofing of the pits and in 1993 the erection of a spacious club lodge with toilets, cloak room and cafeteria, it is still the same track hosting both 80cc speedway and microspeedway.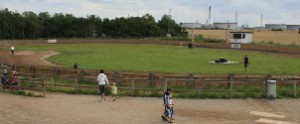 Vejlby Speedway as it looks today, viewed from the pits.
The team "Landsoldaterne" (The Land Soldiers) emerged first time in the Danish tournament for 50 cc speedway in 1977 and finalized in second place in 2. Divison group B. This however was not enough to reach the B-final in second
division, which got ridden on Vejlby speedway on September 24th with the result below.
Plac.  Team.                              Club   
1. The Robbers                         VBMK              34 point.
2.  The red Barons                    Skaerbaek       27 point.
3. The Cooks                             Aabenraa         23 point.
4.  Mini Robbers                       VBMK               21 point.
Landsoldaterne continued in 1978 in the Danish tournament group 5, while a new team named "Vejlbydrengene" (the Vejlby Boys) entered group 4, and another new team named "6. Juli drengene" (The Boys of July 6th) rode in group 6. This was a substantial progress in only one year.
Landsoldaterne won the team championship that year, and got the first team in 50 cc speedway, to be uniformly dressed in riding suits by a sponsor for the following year's tournament.
Further in 1979 the team"Brodrengene" (The Bridge Boys), which despite its male name included the female Anette Munkholm, joined.
The Land Soldiers, The Vejlby Boys and The Boys of July 6th continued. Fredericia Motor Klub got two teams Danish Championship final, which got ridden at Munkebo speedway, but the land soldiers had to leave the glory to Fjelsted and settle with silver medals. The Vejlby boys got left on the "first to nothing" fourth place.
Once again in 1981 The Danish Team Championship went to Fredericia. Furthermore Per Lykke Nielsen from The land soldiers could enjoy the glory on top of the ranking list with an impressing average of 11, 56.
Thereafter it lasted until 1987 before the sweet taste of victory reached the fortress town again.
The Land Soldiers and The Boys of July 6th rode in the Danish tournament in 1982, while The Vejlby Boys rode in qualification group B. In 1983 The Vejlby Boys were away, only to return for the following 6 years.
The tournament rules got amended in 1990, allowing each club only one team in division 1 and 2 teams in division 2. The Land Soldiers – now only named Fredericia rode in division 1.  The Boys of July 6th and The Vejlby Boys rode in division respectively named Fredericia 1 and Fredericia 2. Fredericia 1 took the victory in division 2.
The same rules applied for 1991 and onwards. In 1992 the Fredericia team was still in division 1, but only one Fredericia team was in division 2. The upper team ended last and got relegated from division 1.
Therefore in 1993 Fredericia had only one team in division 2, which by the way was split in two groups.
The team ended second in its group and qualified with no.1 and teams 1 and 2 from the other group for a final round. Fjelsted won the final round, but because they already had a team in division 1, they were not allowed to advance. Hence Fredericia returned to division 1 in 1994. At the same time a new Fredericia team entered division 3.
Unfortunately once again Fredericia ended last in division 1 and had to face the relegation ghost eye to eye.
Again a long period of time until year 2000 passed before the next Danish Team Championship went that way, and the again a break until 2004, which gave gold medals in 1. Division and silver in 2. division. Further two Fredericia teams placed themselves respectively as no. 1 and no. 9 in 3. Division.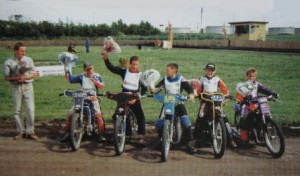 The Land soldiers getting hailed on the Vejlby track for
the Danish 80 cc team Championship 2000.
Some selected results:
September 15. 1984, 80 cc Championship of Jutland:
Place  Name                              Club   
1.  Brian Jacobsen                    Fredericia        14 point.
2.  Tom Knudsen                      Holsted            14 point.
3.  Torben Hansen                   Skaerbaek        13 point.
June 15. 1985.  Team match Jutland-Funen-Zealand:
1.  Jutland    52 point.
2.  Funen     33 point.
3.  Zealand  33 point.
July 12. 1987. Denmark – Sweden 80 cc Nations match:
This meeting was a part of a nations meeting over 4-days, of which the first 2 was held in Sweden respectively in Mariestad on July 4th and in Västervik on July 5th. Then the following weekend the two last meetings got staged in Denmark. On Saturday July 11, on Korslokke Speedway in Odense the Swedish team took their only win in the series in heavy rain.
Then on Sunday the weather was sunny and Vejlby Speedway showed the very best of itself, at least for the Danish team. The Swedish team got hit by engine failures, falls and exclusions and faced a hopeless defeat.
The municipality of Fredericia presented gifts to all riders in the meeting, and the winners got beautiful cups.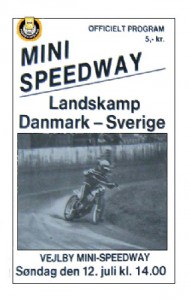 Denmark                  73  Point.                   Sweden                   35  Point.
Jan Andersen           14  Point.                    Robert Johansson     15  Point.
Jimmy Petersen         9  Point.                    Mats Malmberg           1 Point.
Kim Andersen          12  Point.                    Magnus Zetterström  0  Point.
Jacob Olsen              13  Point.                    Fredrik Jonsson           7 Point.
Johnny Jorgensen    12  Point.                    Jörgen Hultgren           3 Point.
Claus Jacobsen        13  Point.  J                 Joakim Karlsson           7 Point.
Flemming Jensen     dnr                              Niklas Klingberg          0 Point.  .
Lars Hammer           dnr                              Mattias Karlsson          2 Point.
With Danish wins in 3 out of 4 meetings the aggregate score was 231 points to the Danes and 186 point to the Swedes.
June 27. 1992. Denmark – Sweden 80 cc Nations match:
The Danish team took a safe lead already from heat 4 and never looked back.
1.  Denmark             72 point.
2.  Sweden                36 point.
August 20. 1995, Danish 80 cc Speedway Championship Final:
In recognition of Fredericia Motor Klub's 50 years jubilee the Danish Motor Union gave the Final to be staged on Vejlby Speedway. The Club made a fine day of the meeting with a lot of flag on the road to the track and many flower decorations on the track.
Plac.  Navn  Klub
1.  Hans Andersen                    Holstebro         14 point.
2.  Carsten Lauridsen               Holsted             13 point.
3.  Thomas Blom-Poulsen        Holsted            12+3 point.
4.  Kenneth Sorensen               Outrup             12+2 point.
5.  Morten T. Andersen             Vissenbjerg     11 point.
6.  Thomas Poulsen                  Esbjerg              9 point.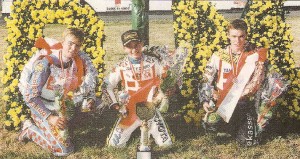 Hans Andersen between Carsten Lauridsen (left) and Thomas Blom-Poulsen
*)If anyone has a better picture, we would be happy for a copy.
The teams from Vejlby were back in division 1 as well as in division 2 in 1997, but both teams ended modestly as no. 7 in division 1 an last in division 2.
June 27.2002 Nordic 80 cc Team Championship Final:
1.  Denmark              59 point.
2.  Sweden                27 point.
3.  Norway                20 point.
4.  Finland                 13 point.
August 18. 2002 Danish Championship revenge:
1.  Casper Wortmann                13+3 point.
2.  Nicolai Klindt                        13+2 point.
3.  Mike Bjorn                            11 point.
July 13. 2008. 4-Nations Test Match DK – SF – PL- AUS: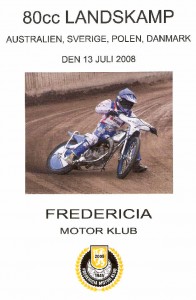 The FIM Championship for young speedway riders aged 12 to 16 years – called Youth Gold Trophy – was staged on Skaerbaek Speedway in Southern Jutland through the week up to Sunday July 13th. An initiative taken by the Danish National youth coach Erik Gundersen made it possible on short notice to arrange a team test match on Vejlby Speedway, while many international riders still stayed in Denmark.
It was good news to see Finland – after through many years having limped behind – being able to participate. Likewise it was exciting to watch the Australian team with the multi talent on motor cycle Arthur Sissis. Unfortunately for Australian speedway he prefers road racing even his speedway riding lacked absolutely nothing.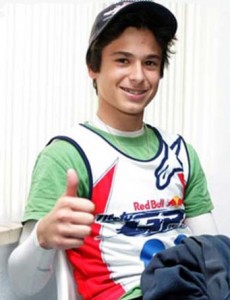 Arthur Sissis
If one should talk about anybody not living up to expectations, it had to be the Poles. Polish speedway has stormed forward on all fronts, except Vejlby. Furthermore they have topped the team with guest rider Kasper Lykke Nielsen from Fredericia. (Son of Per Lykke Nielsen- see 1981)
Denmark                  58  Point.                    Australia               37  Point.
Mikkel Michelsen      12  Point.                     Taylor Poole              9  Point.
Mikkel B. Jensen       11  Point.                      Alex Davies                6  Point.
Jonas B. Andersen      7  Point.                      Arthur Sissis            12  Point.
Mikkel Salomonsen    6  Point.                     Clinton Dennis           6  Point.
Jacob Bukhave          11  Point.                     Justin Sedgeman        2  Point.
Lasse Bjerre              11  Point.                     Cameron Heeps         2  Point.
Finland                     28  Point.                    Poland                    20  Point. 
Victor Palovaara          7  Point.                     Adrian Cyfer             2  Point.
Joel Larsson                 6  Point.                     Mateus Liszka          0  Point.
Jacob Thorsell             6  Point.                     Rafal Malczeuski       1  Point.
Thimm Norberg          3  Point.                     Krystian Pieszczek    1  Point.
Fredrik Engman          4  Point.                     Symon Wosniak        8  Point.
Johannes Fredh           2  Point.                     Kasper L. Nielsen     8  Point.
August 29.2010. Danish 80 cc  Championship Final 2 leg.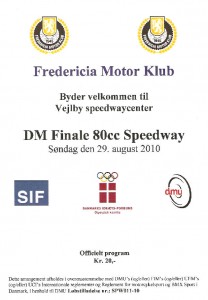 Results:
Plac. Name Club
1.  Rasmus Jensen                     Holsted               28 point.
2.  Kenni Nissen                         Vojens                25 point.
3.  Jesper Schaff                         VBMK                 23 point.
4.  Andreas Lyager                    Fredericia           21 point.
5  Anders Thomsen                   Munkebo           20 point.
6  Mark Frimodt Pedersen        Vojens               18 point.  
If you posses any information, stories, pictures or other material regarding this track,
you kindly would make available for this website, Please do so by proceeding
to the contact page or by using the e-mail address: sk@speedwaylife.com
Thank you very much in advance.