Around 1930  Vejle Amts Motor Sports Club regularly organized hill climbs on the steep road  "Roms Hule" (Rome's Cave), which from Horsens Road leads up into the "Nørreskov" (Northern Forest).
Soon such races got banned by law, and the club needed to find other activities elsewhere. An area belonging to the Squire Mr. Schou, located 1 mile north of  Vejle to the right of the main road to Horsens just after the top of the hill, was made available.
Motorcycle dealer in Vejle, Mr. Jorgen Nielsen, obviously had interest in spreading the motorcycle sport to a broader public in order to improve his business. .
With many press articles on the great success of the dirt track at  Roskilde Road i Copenhagen, where the fan crowd often exceeded  20.000, it was near to consider a similar track in Vejle. and with short distance from idea to action he swiftly procured the funds required and got  the building of the track started.
A 373, 5 meter long oval cinders track opened on June 21. 1931. Among many celebrities attending the opening, also the president of Denmark's Motor Union Mr. Ove Bendixen was present.
The chairman of the club, Mr. Jorgen Nielsen, who himself with a couple of other club members had negotiated a bank loan which made the building of the track possible, noticed with satisfaction the attendance of more than 5000 spectators.
A curtain made of hessian was attached to the outer fence to prevent people outside from watching the races without buying a ticket.
The opening meeting began with 3 record attempts over 4 laps. Aage Wagner was  best with the time 1,36,0 min..
Bent Jensen rode in 1,37,2 and Ib Kroyer Christensen failed with a fall.
The  junior class ridden over 3 laps was won by Anker Bach in 1,21,2 ahead of Borge Larsen and Warnstrom.
Expert 500 cc got in the fastest time of the day 1,11,6 (3 laps) won by Helge Jensen ahead of Svend Aage. Sorensen 1,15 og Bent Jensen 1,16.
A final "crack race", flying start over 4 laps went to Svend Aage. Sorensen in time 1,36,0 ahead of Bent Jensen. Helge Jensen took a great lead, but fell.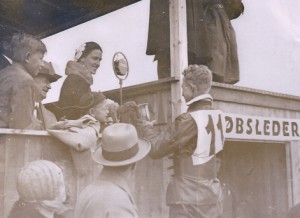 Svend Aage Sorensen gets a prize for the victory
in the opening meeting's crack race.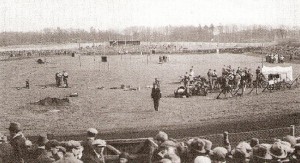 Vejle Dirt track with the pits in the infield.
The local newspaper "Vejle Folkeblad" wrote on the 6th September 1931 the report beneath from a dirt track meeting the foregoing day.

A lot of exciting racing yesterday:The invincible Engstrom improved his record – also K. Hansen and Bent Jensen rode very well.
No doubt, the interest for dirt track racing is increasing. That was clearly to be seen yesterday. Despite rain and competition from a number of sporting events in nearby cities,  Ford-Rodeo in Aarhus, horse racing in Horsens, Aerobatics in Silkeborg, a fun fair in Fredericia and an athletic meeting in Esbjerg, just to mention a few, this meeting got attended by 5 – 6000 spectators
One has to admit that these races are exciting, no matter whatever one thinks about motor sport.
Dirt track riding demands not only great courage from its performers, but also exceptional skill, quick perception and overall unity between man and machine like between a rider and his horse. All these properties could be richly admired yesterday, mainly of course at Sven Aage Engstrom.
He mastered his new A.J.S. bike to perfection and to everyone's thrill. Due to rain the track was deep and heavy, but nevertheless he managed to improve his former track record – only by 1/5 of a second, but improving was a "piece of art" in itself regarding the track condition.
He had bad luck in his first heat, when his motor caught dirt and stopped. So really he should not have ridden in the final heat, but luckily it got arranged so that he could ride in it but outside competition, and of course he led the heat in fine style. Also in a handicap race he displayed superior riding, and finally he won a crack race.
But he had a fierce competitor in K. Hansen, whose popularity in Vejle is increasing every time he rides there. It is a pity that his bike is a slow starter which is a drawback for him in every start from the line, but when he gets the rig going he rides it elegantly, and in the fight between him and Engstrom there were several exciting moments were the two bikes lay side by side through he bends..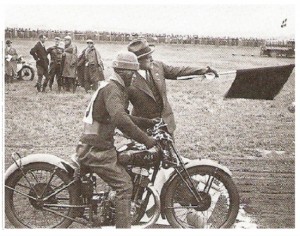 Bent Jensen gets the final instruction from the start marshal
Mr. Knud Danielsen before a track record attempt.
Bent Jensen had a fine day too by winning his first heat and a handicap. Being the third fastest rider he qualified for the final crack race together with Engstrom and Hansen. Obviously on his standard bike he did not stand a chance. In the standard class it was Bent Jensen's two brothers and the rider Rosenlund from Aarhus who prevailed. The rider Anker Bach Sorensen unluckily destroyed his bike in his first heat and retired – The rider Thorkild Clausen from Copenhagen caught illness during the travel, and two other Copenhageners had an accident and could not come. They had asked two comrades to replace them, but they were far from good enough. A match they had together was described as "picnic riding". Apart from that a really fine day without accidents.
                                                                                      o – O – o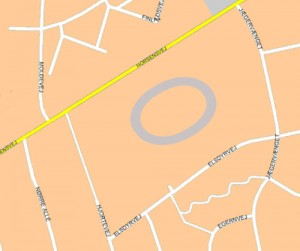 Vejle Dirt track's approximate location st the Horsens road (yellow marking)1931 – 34
Like other Danish tracks also the Vejle track got hit hard by the 40% entertainment tax imposed in 1933 on the entrance fee, and at the end of 1934 the track closed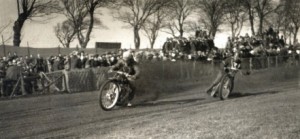 4. meeting 1933. The Australian Max Grosskreutz leading his fellow citizen Ernie Ewans.
A note tells that track was dry and slick on the day, and the fan crowd was a mere
12.000 against 30.000 at the foregoing meeting.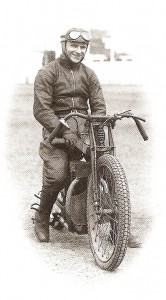 Also the Australian Ray Tauser rode on Vejle Dirt track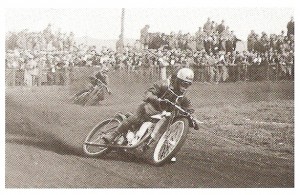 On the second day of Easter 1933; Svend Aa. Engstrom
defeated the English rider Evans.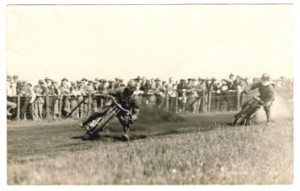 Photo from a post card: The rider in front is presumably Alfred Rumrich.
A short story some years ago told to this webmaster by a former – now deceased – employee of Jorgen Nielsen's, Niels Albert Sorensen says:
One day the famous rider from Copenhagen K. Hansen alias "Little K" or "Kaj Bugatti" visited the Vejle track and was offered a test ride on the tracks' pride, a newly acquired A.J.S. "Big Port" racer.
After some breathtaking laps he returned the bike and asked with a smile, – Don't you have anything that can go really fast ?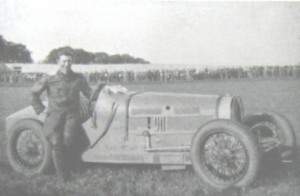 "Bugatti" Kaj Hansen visited Vejle dirt track and had a test ride.
Same Sorensen also told me about Morian Hansen, whom he once helped in the pit as mechanic:
Morian hated to lose a heat, and he used a trick with mounting the hairpin, which secured the rear chain's assembling link, with the opening pointing forward.
When it became obvious that he was facing defeat he could let his steel shoe slide against the chain and push the hairpin away causing the assembling link and the chain to fall off.
An engine failure always looked a better excuse than a defeat.
After having experienced that once and being harshly blamed for the failure, Sorensen mounted the new assembly link with the hairpin on the inside of the chain. Then a broken chain seemed no longer an excuse for defeat.
A 100% guarantee for the truth of the above stories cannot be given. But that does not take the joke out of them.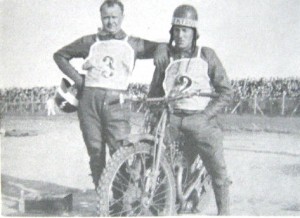 Lorentzen and Morian Hansen chatting on the track in 1931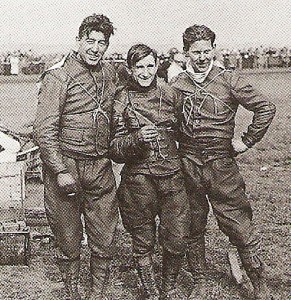 Morian, Alfred Rumrich from Hamburg and Baltzer Hansen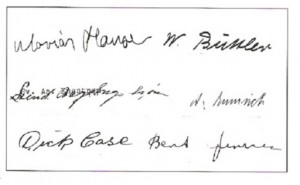 A sweetie for collectors: The autographs of Morian Hansen, W. Büttler,
Svend Aage Engstrom, Alfred Rumrich, Dick Case and Bent Jensen all on one card. 
If you posses any information, stories, pictures or other material regarding this track,
you kindly would make available for this website, Please do so by proceeding
to the contact page or by using the e-mail address: sk@speedwaylife.com
Thank you very much in advance.