Facts.
Track name: Gram Practise track
Track owner: Gram Manor House / Haderslev Motor Sport.
Track address Folevej 1, DK 6510, Gram
Length: Ca 300 m.
Track surface: Earth
Opened: Ca. 1970
Closed year/date: Ca 1975 – 76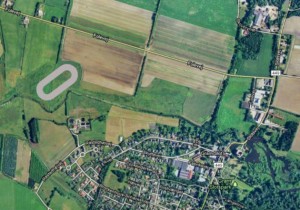 The speedway north west of Gram town between Folevej and Gram stream.
The location is shown by the inserted grey oval symbol. 
GRAM is a minor town in Southern Jutland. Due north of the town runs a stream named after the town. A manor house called Gram Castle owned by Count Brockenhuus-Schack made in the first half of the 70-es a location between the stream and the road Folevej available for Haderslev Motor Sport to build a practice speedway.  (See picture). The track was safety fenced by earthwork all the way round and earth surfaced.
It never got homologated by Denmark's Motor Union and never hosted an official meeting. But was frequently used by riders from Haderslev Motor Sport and Esbjerg Motor Sport, and was said to be very good.
The tape at the gates was an elastic string.
The track got abandoned by 1975 – t6.
If you posses any information, stories, pictures or other material regarding this track,
you kindly would make available for this website, Please do so by proceeding
to the contact page or by using the e-mail address: sk@speedwaylife.com
Thank you very much in advance.