The "Nissering":
Long Track
Note: Nisse = Gremlin. The name of the track means Gremlin's Ring. Other locations at the site are Gremlin's Hill and Gremlin's Cave.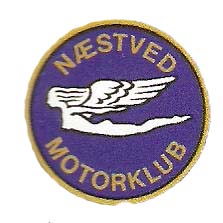 Naestved Motor Klub is owner of a large land site in the hilly landscape 4 miles east of Naestved town and 2 miles south of the village Toksvaerd. Here the club built a large and well reputed moto cross track with international dimensions.
In 1969 the automobile sports department of the club built a 760 meter long soil track for auto cross, which got inaugurated on October 5th.1969 with a long track speedway meeting for 500 cc special solo- og sidecar motorcycles (and cars). The track was and is defined as circular, but is almost triangular, and one leg has a right curve before it turns left again.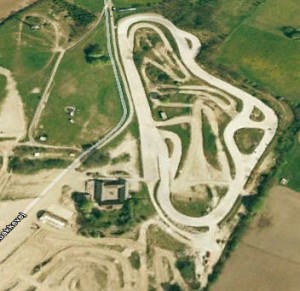 A satellite view clearly shows the triangular shape
of the track and the sneaky right curve.
The area in the middle is the hill "Nissebjerget"
("gremlin's hill") with a motor cross trail.
More moto cross trails in the lower left corner.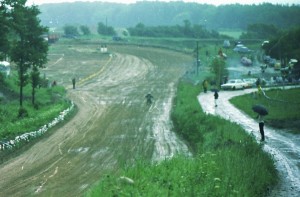 The right curve from another angle
In the practice session in the morning the rider Preben Moller Kristensen did not observe the right curve, but painfully got his right foot squeezed in between the track surface and the footrest on his bike. Nevertheless he was able not only to ride but also to win the race, but not afterwards to enter the rostrum on his own.
His comrades had to carry him there. In second place came Jan Holm Nielsen from Ringsted ahead of Mogens Dam from Randers.
The sidecar class got won by John Havnbo from Copenhagen with Fritz Kristensen as passenger ahead of Verner Poulsen / Jørgen Aamann. The usually so strong sidecar team from southern Jutland Frank and Henning Damgaard escaped reasonably well from a dramatic flight over the earth wall surrounding the track.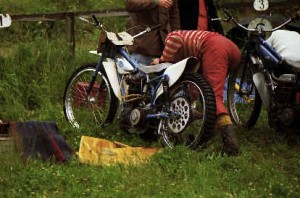 Preben Moller Kristensen is standing upside down in his machinery.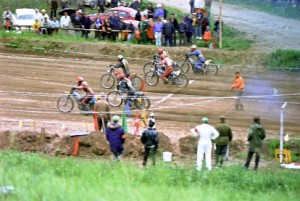 6 bikes are roaring away from the gates.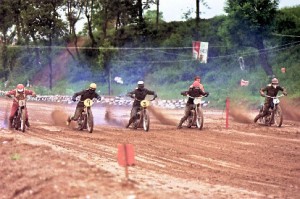 The  3 pictures above are shot by Ake Kronqvist, mechanic for the rider
with no. 3 in the middle, Ingvar Widman from Sweden..
If you posses any information, stories, pictures or other material regarding this track,
you kindly would make available for this website, Please do so by proceeding
to the contact page or by using the e-mail address: sk@speedwaylife.com
Thank you very much in advance.