Roskilde ring
Sources: Wikipedia, the film about Roskilde Ring and personal memory.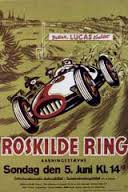 Opening Day programme
A racing circuit built on a leased site in an old gravel pit in Roskilde, near the city center and railway station.
It was opened as an earth track on Constitution Day, 5 June 1955.
In bright sunshine came 35.000 spectators though the turnstiles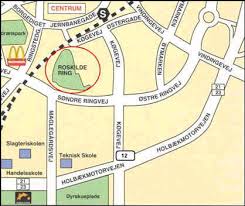 Roskilde Ring placed in the circle on the city map
Shortly after the track got paved with asphalt, and was in 1957 extended to a length of 1400 m. with both right and left turns. From the surrounding slopes almost every yard of the track could be seen together with a view of the pit area, marked 3 on the picture below.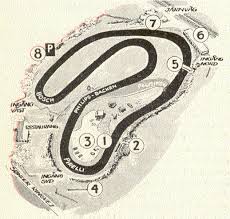 Roskilde Raceway after the extension in 1957
 There were several international meetings held on the Ring, and in 1961 and 1962 were at two occasions raced in the prestigious Formula 1 class with stars like Stirling Moss and Jack Brabham.
In the period 1955-1968, a total of 85 meetings were held on the track with a tally of 571 different races.
The vast majority of meetings were for cars in different categories, from Formula 1 to touring cars and midgets, but also for both solo motorcycles as for motorcycles with sidecars. In addition motocross where hills and slopes around the track was implemented. Also go-carts took to the track, plus four bike races and a single race for tractors.
On several occasions there was Showtime featured in the meetings. E.g. As a petrol company had a sales campaign under the motto "Put a Tiger in the tank" had equipped a number of female beauties with a bold disguise in tiger-striped bathing suits.
On another occasion the actor Dirch Passer appeared as a slightly confused motorist who caused chaos by driving in the opposite direction of a field of racing cars, who with great skill to the audience's cheers all managed to elude him.
Roskilde city was in a strong period of development where several apartment blocks shot up at Southern Ring Road, and gradually came more and more complaints, partly from the noise from the track, and partly from the parking chaos.
In 1968, the track had to close. The plant was cleared and the area turned into a city park.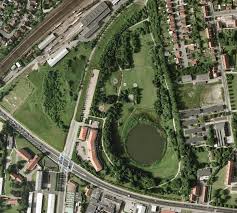 Roskilde city park
If you posses any information, stories, pictures or other material regarding this track,
you kindly would make available for this website, Please do so by proceeding
to the contact page or by using the e-mail address: sk@speedwaylife.com
Thank you very much in advance.