Speedway
The mid – west town in Jutland Holstebro at the river Storaa has since the end of WW2 had two long periods of time with interest in speedway and no less than three tracks of which the first situated at Navr and the second were the same, but converted in 1953 from a grass track to a 367 m. long speedway.
From 1967 speedway sport lay idle because Holstebro Motor Klub stopped its activities. The interest however was not dead. Still there were riders only riding on other tracks.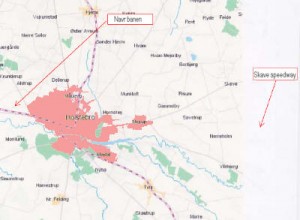 Four miles west of Holstebro there is a small village named Navr, where Holstebro Motor Klub had its speedway track several years ago. The origin of the track – originally a grass track – is long forgotten. In 1953 it got converted to a 367 m. long Speedway.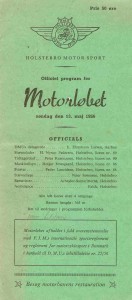 10.000  fans watched in 1956 this meeting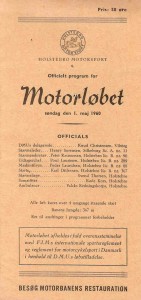 Also this meeting had many thousand spectators
Very soon the track gained great popularity. The railway line between Holstebro and Vemb is passing closely by the track. At greater events extra trains stopped by the track and returned to Holstebro to collect more guests

August 18. 1958. International speedway:
More than 10,000 spectators went through the turnstiles to see two world champions, namely Ove Fundin from Sweden and Barry Briggs from New Zealand together with Cyril Brine from England meeting the domestic ace, Arne Pander, which until then had the track record of 74.0 for 4 laps .
It was close they had come in vain. A strike in England had stopped all public traffic. So when the three riders arrived to the airport, they found, that there was no flight to Denmark.
Swiftly they chartered a taxi flight, which had to touch down at Groningen in the Netherlands. From there they phoned to Holstebro to tell that they were on their way. The plane could not get permission to land near Holstebro, but should land in Esbjerg. A car was sent to Esbjerg airport to bring the riders to Holstebro, where they arrived at the track with some delay.
As always with these greater meeting the programme beyond the international expert class also featured other classes such as senior and junior standard and sidecars. While waiting the organizers let some of the other classes ride some heats, but the mood in the audience suggested that it was just what they had come for.
Spirit rose considerably when the foreign riders arrived and quickly got ready to start. They were offered a few practice rounds, since none of them had ridden on the track earlier, but Ove Fundin said he did not find it needed.
He was right. Neither he nor Barry Briggs had trouble keeping Arne Pander behind, as seen this headline below.

County News for Holstebro, Herning and Struer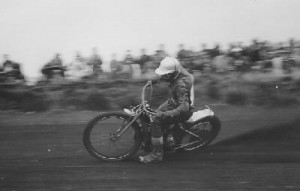 Barry Briggs (NZ) at the Navr track 1958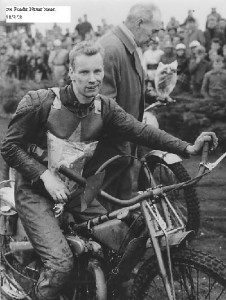 Ove Fundin (S) Track record holder at Navr
Results:
International Expert.
1. Ove Fundin,                              Sweden                   12 point.
2. Barry Briggs                             New Zealand             6 point.
3. Arne Pander.                           Copenhagen              5 point.
4. Cyril Brine,                               England                     1 point.
Special 500 cc:
1. Poul Hansen,                           Copenhagen            11 point.
2. Henry Kjaergaard,                   Skive                           6 point.
3. Mogens Jensen,                       Holstebro                   4 point.
4. Robert Lindeberg,                    Sønderborg               4 point.
Senior standard 500 cc:
1. Soeren Juul,                              Viborg                      11 point.
2. Bent Thomsen,                        Struer                         8 point.
3. Niels Moller,                             Viborg                        4 point.
4. B. Kjeldsen,                               Vejle                           1 point.
Junior standard 500 cc A:
1. Poul Jorgensen,                        Horsens                    8 point.
2. E. Kamstrup Madsen,              Viborg                        8 point.
3. Etlar Faurholt,                          Silkeborg,                  7 point.
4. Arne Pedersen,                        Kolding.                     1 point.
Junior standard 500 cc B:
1. Eigild Damgaard,                     Herning                    17 point.
2. H. Visby Moller,                        Herning                   14 point.
3. Hans Jorgensen,                       Herning                   13 point.
4. Bent Pauli Madsen,                 Holstebro                10 point.
5. John Ulvedal,                           Holstebro.
Sidecars:
1. Gutfeld Lehd,                            Vejle                          5 point.
2. Günther Bomme,                     Haderslev                 5 point.
3. Evald Andersen,                       Holstebro                 2 point.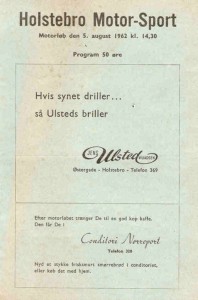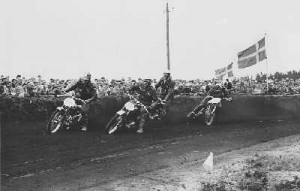 Standard bikes racing at Navr. Arne Svendsen (14) leading Soren Juul (15)
Bent Svenningsen(17) og Bent Thomsen.
From time to time the club suffered financial difficulties and abandoned the Navr track in 1967. Actually the track still exists and is nowadays used by a Junior Club in Holstebro.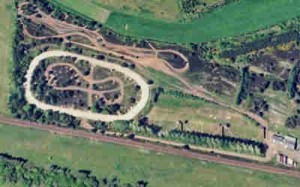 The Navr track 2008. The railway line and the track entrance are clearly visible.
If you posses any information, stories, pictures or other material regarding this track,
you kindly would make available for this website, Please do so by proceeding
to the contact page or by using the e-mail address: sk@speedwaylife.com
Thank you very much in advance.