History
The Danish King Frederik  the 3rd ordered in 1650 the town Fredericia built as a military garrison and stronghold on the eastern coast of Jutland near the narrowest part of the Little belt.
As such the town played a major role in the Sleswigian wars in 1848. The town lost its military importance in 1910, but this is still remembered  in the names of Fredericia Motor Klub's teams  in various divisions in the Danish speedway tournaments, such as the Fortress boys, the Land soldiers and the Boys of July 6th (the date of the decising battle in 1848).
Since Fredericia Motor Klub got founded in 1945 it has had more speedways, of which the  Snoghoj track near the old bridge over Little belt was the first.. When the Snoghoj track closed in 1950, the clup in a shorter period had a track in Hannerup due south of Fredericia.
More important meetings got staged at Fredericia Stadium, but because this was located in the middle of a residential area, the number of meetings were limited to one or two per year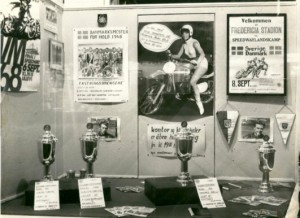 From 1968 and some years after the club had a shop with office and meeting room in midtown Fredericia where the shop window was used to exhibit club items.
Further the very active club in several years ran Frederikslyst speedway at Hedensted 22 miles north of Fredericia.
and used it for meetings i the Danish tournaments and the league.
Vejlby speedway, which now is home track for 80 cc ind micro speedway has a past as 500 cc speedway.
Now the club is without a speedway for 500 cc. A new project was launched and thoroughly negotiated, but unfortunately now shelved because of too many restrictions in the vicinity.
From 1986 to 1996 Fredericia rode in the Danish Speedway League with fra 1986 til 1996. Frederikslyst as home track. In 1987, 1989 and  1993 the championship was won, but after the 1996 season the club withdrew due to financial trouble.
Caused by the weak economy not much was heard from the club in 1993 and some years after. But the members denied to give up, and raised money to continue.In the same period a new club lodge got inaugurated where the new chairman, Torben Jensen with the members celebrated the club's 50 years anniversary, happily knowing that the red figures in the bottom line were gone.
For more periodes of time Mrs. Grethe Bundgaard was a dynamic and estimed chairman of the club and spearheaded an almost 25 years long struggle give the club a new home track, if possible at a new stadium. The municipality was positive, but as mentioned above legal hinderness was too much.
Due to long lasting effects from a traffic accident she retired in 2005, but the club still maintains a high level of activities on the Vejlby track.